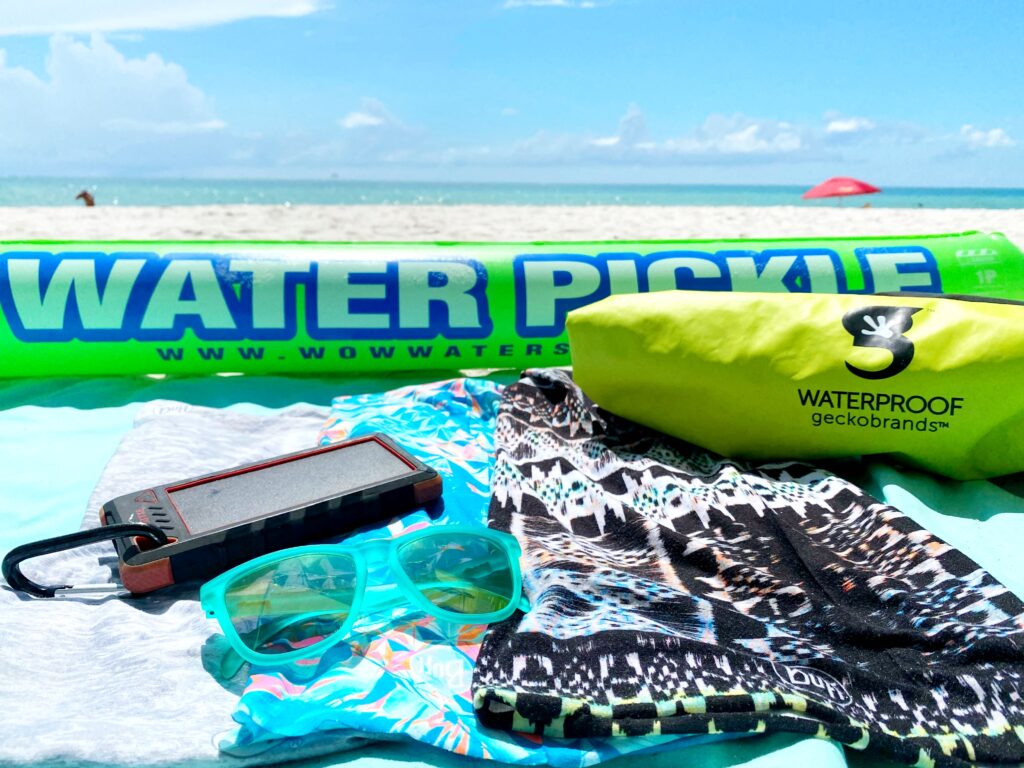 The best beach days happen when you strategically plan and pack your beach bag. So, whether you're heading somewhere tropical for Spring Break or jet-setting to a resort for a relaxing seaside vacation, each of the essentials below will help you have a more pleasant time! Think gear that will keep you comfortable, protected, and hydrated on your trip.
Beach Essentials You Can't Leave Home Without
Clothing & Accessories
Infamous Swimwear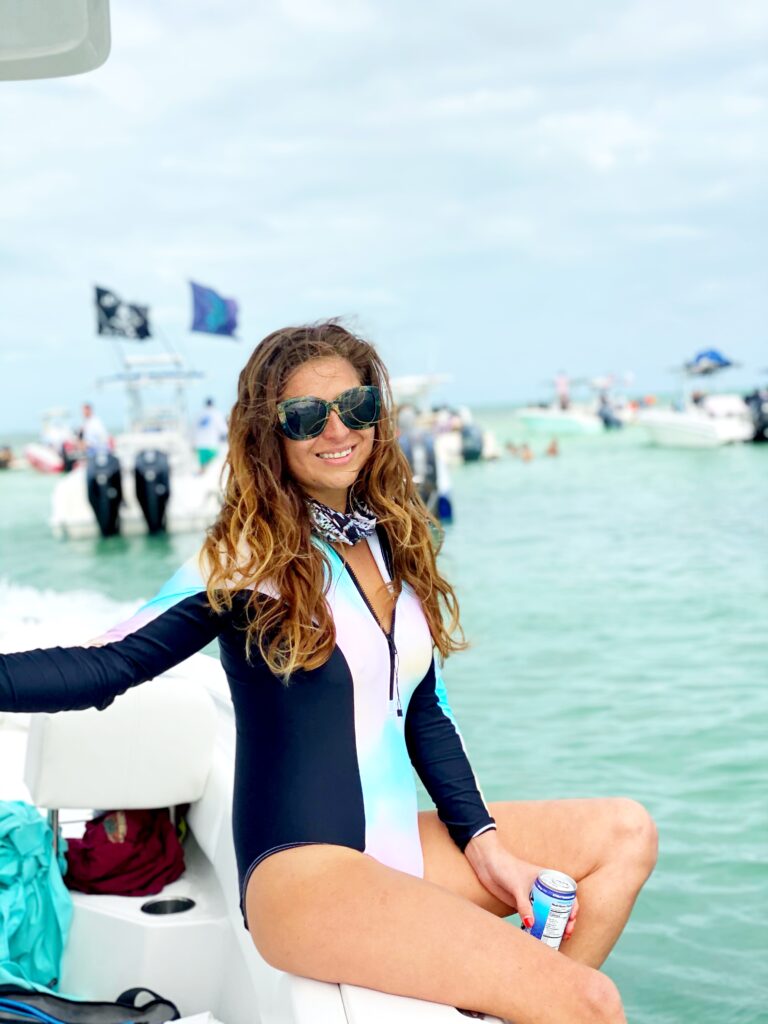 The Blake surf suit from Infamous Swim is hands down the best swimsuit I've ever worn! Not only is this swimsuit flattering and comfortable, but it also provides upper body protection from the sun.

A few weekends ago, I tried this suit out on an all-day boat excursion in the Florida Keys and I fell in love. The day started off with the hot Florida sun beating down on me, so I was glad to have protection on my arms and back. I was also happy to have insulation later that afternoon when a thunderstorm popped up and it got a bit chilly.

This suit will make you feel sexy and strong no matter what shape or size you are! Infamous Swimwear is all about #bodypositivity and this suit is proof!
Shop Infamous Swimwear and use code SAM10 to take 10% off.
Buff Headgear
At the start of COVID-19, I bought a Buff Multifunctional Headwear. Growing up in Texas, I'd always seen fishers use them along the Texas gulf to keep the sun off their face and neck and the dirt off their face, so it seemed like a solid choice for a mask.
Since March 15, 2020, I don't think my neck or arm has been without a Buff. In fact, I've used my first one so much it has lost a little bit of its elasticity. I wear it as a face mask, around my neck when I'm exercising, as a headband when I need to keep my hair out of my face, like a towel when I need to wipe my hands off, and while in Miami I draped it over my head to prevent my face and scalp from burning.
Needless to say, I'm a HUGE fan of this product and think it's worth every damn penny. Pandemic or not, I don't think I'll ever be without one by my side. They come in a variety of fun colors and patterns like the one above!

Shop Buff Headwear now on Amazon.
Panama Jack Hats
I've bought many hats on countless adventures from grocery stores and local shops and they all seem to be the Panama Jack brand.

If you're out in the elements when traveling, especially in the water, you won't last long with the sun beating down on you, so a hat is a must! I love these hats because they're inexpensive, sturdy, lightweight, and have built-in SPF protection.
Shop Panama Jack on Amazon.
Goodr Sunglasses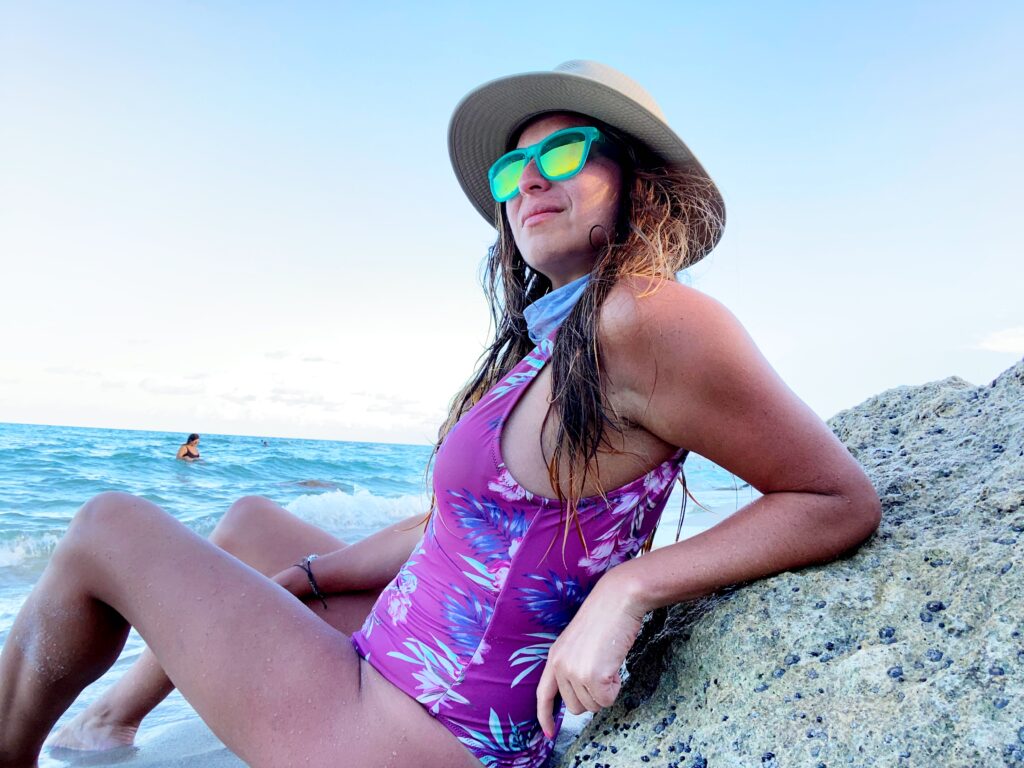 My friend Lee (coffee_cheers) put Goodr sunglasses on my radar right before I took a trip to Miami and I am extremely glad he did. These sunglasses are durable, flexible, soft to the touch, have reflective polarized lenses, and are super cute!
I mean look at this color! It's called Nessy's Midnight Orgy, how hilarious and wonderful is that? And at just $25 a pair, how could you say no?!
Shop sunglasses on Goodr.com
iDRYBAG Waterproof Backpack
A waterproof backpack is the best way to carry all your beach essentials and protect them from the sun and saltwater. I bought this backpack in October of 2019 for a 10-day cruise adventure and it was the best $25 I've ever spent! It's surprisingly roomy and conveniently has a water bottle holder on the side.
Shop iDRYBAG on Amazon
Beauty & Skincare
Earth Baby Sunscreen
There's something about the way the sun reflects off the sand and the water that makes the beach feel extra hot. And that heat can wreak havoc on unprotected skin thus why it's so important to wear sunscreen. On a recent quest to find the best sunscreen, I came across Earth Baby. The company was founded by a health and beauty formulation researcher and grandmother out of the love for her grandchild.
Florence Nacino is committed to using certified organic fruit and vegetable-based ingredients, thus Earth Baby's products are:
Non-toxic
Made in the USA
Certified Organic & Natural Ingredients
Clinically Tested
Made with soothing Ingredients and Skin Barrier Protection
Reef-Friendly
Pediatrician and Dermatologist Tested + Recommended
Hypoallergenic, Non-Irritating
Scented with Essential Oils
Not Animal Tested and use No Animal-Derived Ingredients
Contains no Animal By-Products
Contain No Artificial Dyes
Free of Parabens, Sulfates, Phthalates, Formaldehyde, Mineral Oil, Propylene Glycol, DEA, MEA, Cocamidopropyl Betaine, Triethanolamine, Petrolatum, Lanolin, Synthetic Fragrances
Furthermore, Earth Baby's patented Oleosphere technology ensures all-day skin protection via vitamins and minerals. All-day protection, moisturization, and superior hydration make Earth Baby the best sunscreen to slather on your baby, toddler, or yourself!
Shop Earth Baby sunscreen.
TO112 Sea Salt Serum
Beachy hair, don't care! TO112 (prounounced 2-1-1-2) will give you that effortless beachy texture no matter where you are. Plus, it hydrates (thanks to tamanu, jojoba, and argan oils) while adding volume for touchable, beachy waves, all year-round.
Shop TO112.
Miami Beach Bum Cream
Annoying skin problems like acne, dryness, and folliculitis can result from too much fun in the sun in swimwear or activewear. But this bum + body cream will have your beach bum glowing (and smelling like refreshing spearmint) from head to toe in no time. I highly recommend pairing it with the face oil above for head to toe skincare.
Shop Miami Beach Bum cream. Use code EATWELLADVENTUREOFTEN10 to take $10 off!
Shop Club Lip Balm
While you're at the beach, don't forget to protect your lips from the sun's harmful UVA and UVB rays! Lips contain very little melanin —the natural skin pigment that blocks the sun's rays. Lip balms like Sun Shades from the shop club I am a part of weatherproof your lips from the elements but they also protect them from the harsh sun too.
Interested in joining the largest online wellness shopping club and gaining access to amazing products like these at affordable prices? Email me at samantha.elaine.saenz@gmail.com for a referral link.
Floats & Coolers
Uber Chill Mini Fridge
On a road trip to the beach? Ditch the bulky cooler at home and bring along the Urban Chill travel-friendly mini-fridge. It comes with a car adaptor to keep your drinks and snacks chilled.
More fun facts about the Urban Chill mini fridge:
Compact yet roomy: holds up to six 12-oz. cans or four 500-mL. bottles
Features heating and cooling options to keep contents cool or hot. Both options are preset optimal temperatures
Portable: Plugs into 12V car or Home outlet (Built-in AC/DC transformer) Both cord's included.
Eco Friendly: Its solid-state thermoelectric cooling system keeps drinks at optimal drinking temperature
Shop Urban Chill mini fridge.
YETI Rambler, 36 oz
This rambler bottle from YETI is my constant companion. I fill it up with water in the morning and again in the evening as needed. Not only does it keep my water or beverage of choice ice cold for hours and hours, but this bottle is also virtually indestructible thanks to kitchen-grade stainless steel construction.
It's gone with me to the jungles of Cuba, Mexico a handful of times, down the Guadelupe river in Texas, and all over the Caribbean. Hydration is essential when traveling and there's no better feeling than knowing you'll have clean, cold water no matter what adventure you find yourself on.
Shop the YETI Rambler on Amazon.
WOW Sports Inflatable Water Pickle
The ridiculous name of this inflatable pool noodle is half the fun. The other half is how wonderful it is to float on it in the ocean instead of treading water or fighting waves. This bright green float also conveniently folds up to a compact size for easy packing. I threw it in my carry-on the first time I visited Miami, Florida and I was so glad I did. It also doubles as a comfy headrest while laying on the beach.

Shop the water pickle on Amazon.
Food & Drink
Pure Inventions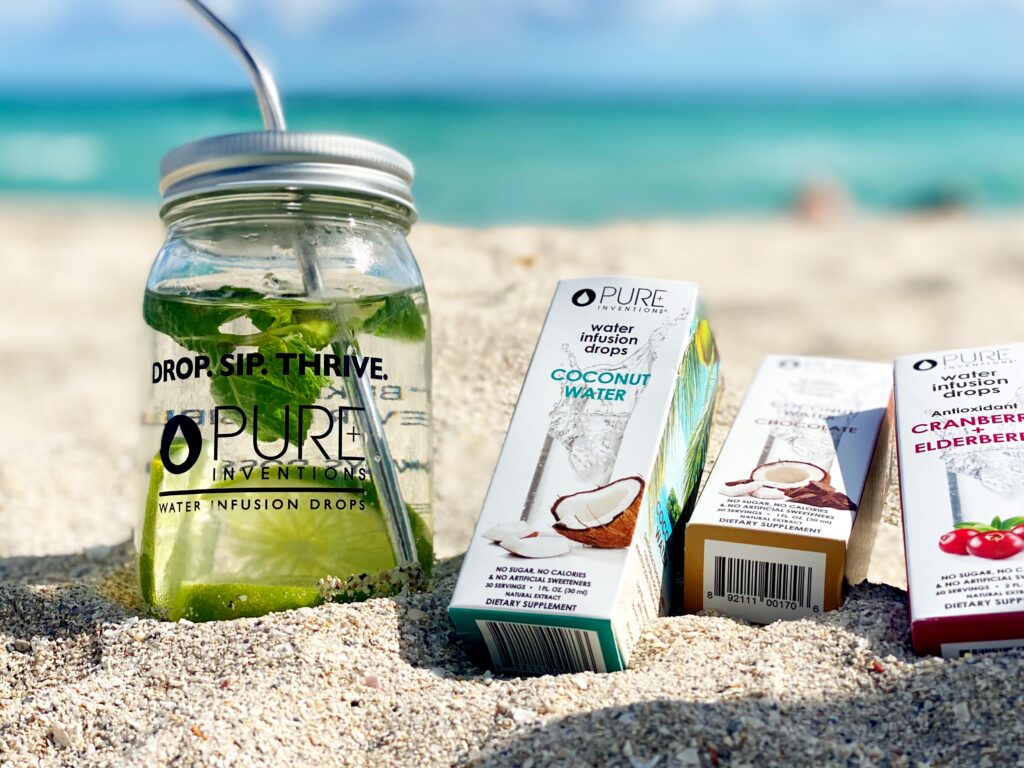 When you're at the beach, hydration is the name of the game. The sun, surf, and sand will dehydrate you quickly and sometimes water isn't enough to replenish lost electrolytes. That's where Pure Innovations infusion drops come in. These convenient and tasty water infusion drops have a light, refreshing, and sweet coconut-y flavor, plus they:
have (trace amounts of) naturally occurring electrolytes
are FREE OF sugar, calories, artificial sweeteners, caffeine, and gluten
are keto, paleo, and vegan
can be added to hot, cold, or sparkling water
come in 12+ flavors
All good reasons why Pure Innovations should be in your beach bag! Plus, these drops make a fantastic virgin mojito that's sure to keep you cool and hydrated on the beach.
Shop Pure Innovations on Amazon.
Travel Snacks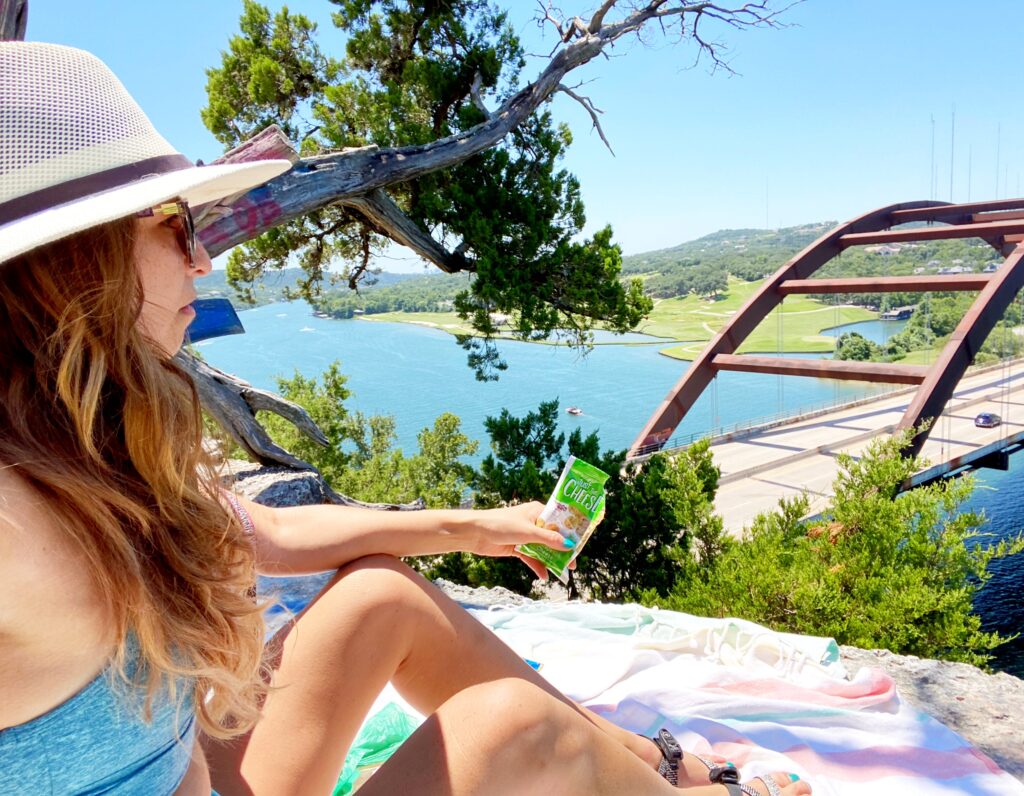 Soaking up the sun and swimming all day can help you work up quite the appetite. Pack these travel snacks in your beach bag or backpack to fight off hunger and fuel your all-day beach affair.
Footwear
Chaco zCloud Sport Sandal
I always try and strike a balance between fashion and function, however when it comes to sandals, function wins.
Hands down Chacos are the most comfortable sandals I've ever worn. I wear them daily around the house, on walks around the neighborhood, and to run errands. They've also gone with me on several domestic and foreign adventures where I have worn them for hours on end while exploring.
Chacos are also perfect water shoes as they do not slip or rub your feet when they get wet like other sandals tend to do. They also have incredible grip so you never have to worry about slipping in the water or on unstable/slick terrain. I could go on and on, but I'll stop here so you can go buy a pair and see for yourself.
Shop Chacos on Amazon.
Tell me everything!
What beach essentials do you not leave home without?
*Disclosure: Thanks to Infamous Swim, TO112, Urban Chill, Earth Baby, and Pure Inventions for sponsoring this post. I only recommend products I use myself and all opinions expressed here are our own. This post may contain affiliate links that at no additional cost to you, I may earn a small commission. Thanks!