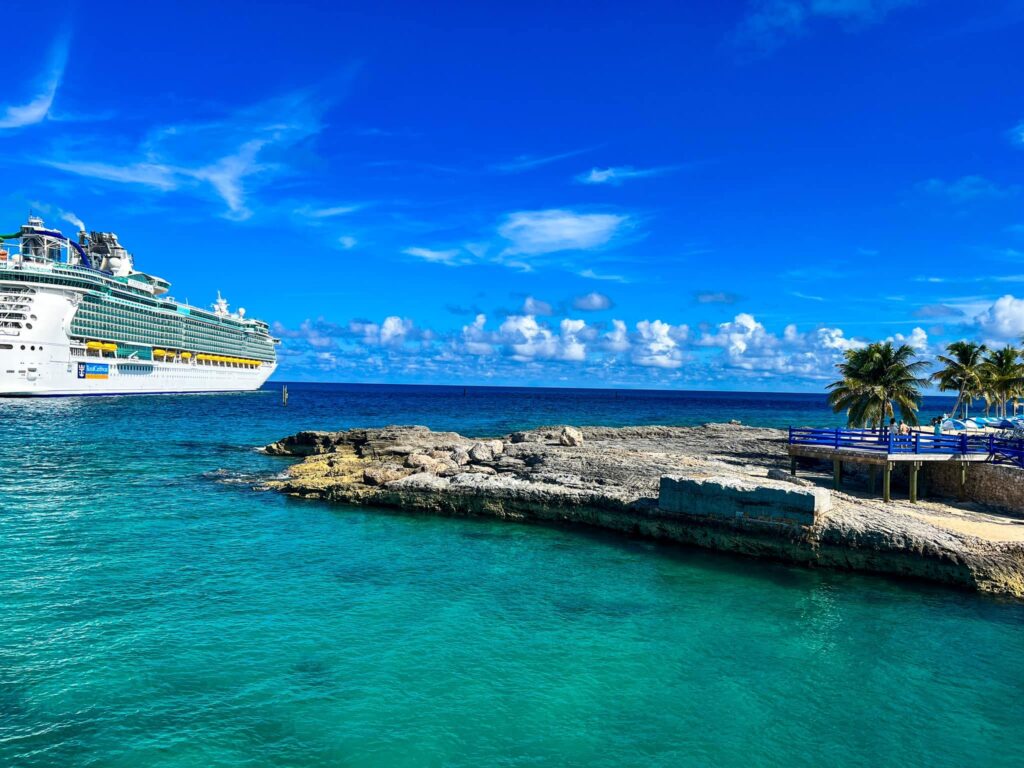 Wondering what essentials to pack for an upcoming cruise? Packing for a cruise can be challenging for several reasons. First and foremost, everything you're taking on a cruise must fit in a suitcase, which must be less than 50 lbs if you're flying to or from your cruise terminal.
Second, unlike regular travel, on a cruise, you are confined to a boat in the middle of the ocean, often hundreds of miles away from the closest Target or Walmart, and buying things as you need them isn't an option.
Third, if you can purchase things you forgot in a cruise port, they are often hard to find in general or highly marked up in price.
As a seasoned cruiser (hypervigilant planner), I've put together this list of cruise essentials you should pack for your next cruise to help you anticipate common cruise necessities and have the best time on the high seas!
Don't sail away without packing these 20 cruise essentials from Amazon
Accessories
Packing cubes



I've sworn by packing cubes since back in 2019 when I picked up my first set! Somehow they magically keep everything contained and compressed and create max organization and room in your bag.
For my most recent 15-day cruise, I snagged this 8-piece set from Amazon, and they were worth every penny!
Unlike other sets, this one came complete with the following:
a Medium, large, and XL packing cube
a shoe bag
a cosmetic bag
a sock and underwear bag
a drawstring bag
I was able to easily pack four different pairs of shoes in the shoe bag, I used the cosmetics case to contain all my electronic cords, including a giant phone charging bank and headphones, and I used the drawstring bag to store sunscreen and hair products to throw in my bag for excursions quickly.
Having a set of packing cubes, this diverse also made repacking for disembarkation day much more manageable because everything had a pre-defined place and simply went back where it belonged!
Buy Bagail 8-set packing cubes on Amazon.
Passport and credit card holder
I ordered this all-in-one travel document organizer for the cruise I took this past April, and I'm not sure how I've lived without it for so long. It's basically a packing cube for all your important documents. It holds your passport, boarding passes, money, driver's license, sea pass card, credit cards, and more.
There's also room for your phone, keys, and coins making this organizer perfect for shore days when you need to keep everything together in one place or using around the ship as a clutch.
And did I mention it's water resistant and RFID blocking and comes in 6 fun colors?
Buy the Ababuli travel document organizer on Amazon.
Waterproof bag
If you're like me and tend to book cruise excursions in port that are a little on the adventurous side, this bag is definitely for you! It's also great if you are looking for an easy carry bag that will keep your belongings safe from the water near the ship pool or hot tub.
What I love about Geckobrands waterproof backpack:
It's lightweight and versatile: This backpack only weighs .6 lbs and is a must for the pool, beach, boat, or cruise. It can be worn as a backpack or tote if you buckle the closure but don't roll it down.
It's waterproof: Geckobrands uses 210D ripstop polyester with an interior polyurethane protector coat to create durable waterproof bags that keep your values safe and dry no matter where you are.
It holds a lot of stuff: It's mindblowing how much stuff this 30L bag can fit. I'm talking about everything you need and more for a cruise port day; a 36 oz Yeti water bottle, wallet, sunscreen, change of clothes, towel, hat, and snack without being too bulky to carry.
If you forget a waterproof bag, you can usually find them in port, but they are generally much more expensive than buying them ahead of time.
Buy Geckobrands waterproof backpack on Amazon.
Waterproof Phone Case
I'm a huge fan of anything Geckobrands! I have a few of their waterproof bags, backpacks, and this specific waterproof case.
Whether you live near the water where you are going forth between the beach, boat, and pool, or you want to protect your phone on a tropical vacation, this case is superior. It is spacious enough for your phone, credit cards, keys, and even a few additional items like a power bar, sunscreen, and chapstick. Yet, it's small and sleek enough to go on long walks, take on a boat or bike ride, or wherever your travels take you! I usually rely on it for day-to-day life aboard a cruise ship.
Buy Geckobrands waterproof phone case on Amazon.
Misc cruise items
Luggage tag holders
For my most recent cruise, I finally bought luggage tags for my bags and was so glad I did. I've heard horror stories of bags getting lost because the labels fell off in transit, and to ensure I took proper precautions, I purchased a set of durable, reusable plastic ones. They can also come in handy if you're flying or want to have your contact information on your bags wherever you are.
I purchased a kit like the one above, and in addition to luggage tags, it conveniently came with sea pass card holders, chair tags, and cruise approved power strip. All of these items are definitely worth their weight in gold if you're looking to cruise. Especially, the surge-proof power strip! A lady I met recently on an excursion told me she accidentally started a small electrical fire because she didn't have the correct one. I felt so bad for her because a fire on a boat is one of the worst things that can happen! Let me know if you want a storytime!
Buy the 23-piece cruise accessory kit on Amazon.
Reusable water bottle
I never leave home without my reusable Yeti water bottle. Never! And I wouldn't think about going on a cruise without one, either. I've raved about them before on my travel essentials blog, but here's why I recommend them aboard a cruise ship:
They're made with stainless steel and are more durable than other water bottles. Because of their construction, they can withstand being dropped or bumped and are puncture and rust-resistant.
They keep drinks ice cold for hours thanks to being double-wall and vacuum insulated. This is vital to stay hydrated if you are in port or on a long excursion in tropical locations or ones that require a high level of physical activity.
They're 100% leakproof, which means they won't spill in your carry-on or luggage.
Plus, they are a better day-to-day option aboard as most cruise ships only offer small 6 oz cups, and refill stations are few and far between. I don't know about you, but I drink a lot of water every day, and 6 ounces at a time is laughable when it comes to quenching my thirst, not to mention annoying.
Buy the YETI rambler on Amazon.
Microfiber Travel Towel
One towel, a million uses! I swear by anything from Nomadix, but this cheaper option from Rainleaf is another cruise must-have. You can use it as a blanket for the beach or anytime you get cold, for your chairs on the cruise deck, to dry off with if you swim in port, as a yoga mat, etc.
It's ultra-absorbent, fast drying, and compact, so it fits easily in your luggage or port day bag. It also comes in many sizes and colors for all your travel and cruise need—don't get on any boat without it!
Buy Rainleaf microfiber travel towels on Amazon.
Mini first aid kit
Accidents happen! And due to the nature of cruises, they are more prone to happen when you are traveling. Be ready and save money with this convenient, compact, and waterproof first aid kit that includes everything from basic first aid essentials to comprehensive health care accessories.
Buy a mini fist aid kit on Amazon.
Laundry detergent packets
If you're heading on a long cruise and want to re-wear some clothing items or even if you want to pack light, travel-sized laundry detergent packets are a must! They allow you to wash a few things in the sink and come in handy for sink washes or on-the-go spot treatment.
Not only do they come in a compact case, but they are way cheaper than what will be available on the cruise ship.
Disinfecting wipes
I love these antibacterial wipes to wipe down your hands, bags, stateroom, table, chair, etc., aboard the cruise ship or when needed in port. There's no doubt that cruise ship staff members work hard to keep common areas clean, but when 2,000+ people are confined to a single boat, mess happens.
On my most recent cruise, I was happy I threw this in my everyday bag as the tables in the buffet dining were usually dirty/sticky from others dining before me. Instead of waiting, I was able to wipe the mess and go on about my vacation quickly.
Also, your stateroom can get messy on a long cruise. By day 6 or 7, you may feel like it could benefit from a bit of disinfecting, especially if you order room service and make snacks and drinks in it.
Toiletries
Sunscreen, Aftersun, and Chapstick
If you're headed to tropical climates on your cruise, don't leave home without sunscreen or other moisturizers to protect yourself from hash UVA and UVB rays.
Sure, you could buy regular sunscreen and aftersun for your cruise, but why not get reef-safe, travel-sized versions that smell like a tropical island and come in a cute reusable bag?
Just toss this good vibes bag in your suitcase, backpack, beach bag, or carry-on, and you're good to go!
When you use it all up, head to your local drugstore to purchase more travel-sized options to have them ready and in one place for your next adventure.
Did I mention that this kit also makes an excellent gift for the cruiser, traveler, or sun bum in your life?
Shampoo, conditioner, facewash
While cruises like Celebrity have shampoo, conditioner, body wash, and lotion in each cabin, many other cruise lines do not, or they won't have ones with the ingredients you prefer. The best bet is always to pack your own and take travel-sized versions so that in the event you are flying home from a cruise port, you won't get them confiscated by TSA. A painful lesson I learned recently!
Brands like Stream2Sea offer travel-sized versions of shampoo, body wash, conditioner, and lip balm. I love this brand because they are Florida-based and use nontoxic ingredients for humans and the fragile ocean ecosystem. They also offer travel-sized versions of their fantastic mineral sunscreen and conveniently package it all in a reusable tote which takes the guesswork out of having to hunt down different products and make sure they are TSA approved!
Buy the Stream2Sea Ecoconscious travel kit on Amazon.
Face, body, and makeup wipes
Some type of face, hand, and body wipes are mandatory on a port day, especially if you are going on an excursion. I can't tell you how many times I've found myself in the 7th hour of an outing on a tour bus feeling absolutely disgusting after a full day of sun, fun, and walking.
These refreshing cucumber mint wipes by Burt's Bees have become a staple in my day-to-day life and are a must any time I travel. They're great if you want to quickly wipe the dirt and grime off your hands and face from whatever exotic location you're at. Plus, I find they are great for removing makeup and are appreciated by both men and women!
I also love these tee tree, witch hazel, and lavender face wipes by Carpe. The witch hazel gives you a bit more cleansing action, and they come individually wrapped so that they won't dry out in transit!
Buy Carpe face wipes on Amazon.
Deodorant wipes
Carpe absolutely knows how to keep you smelling and feeling fresh on the go. In addition to their face wipes, I never travel, let alone cruise, without their underarm wipes. I always throw a few in a reusable Ziploc bag and a few hand and face wipes.
Buy Carpe antiperspirant underarm wipes on Amazon.
Roll on essential oils
On my most recent cruise, I accidentally took a similar version of UpNature's Breath formula pictured above, and it became invaluable. Not only are oils like peppermint and lavender are known to help you clear your mind and help you feel more relaxed, but oils like eucalyptus are great for purifying and refreshing the air. And that's precisely what I used it for!
So, during the first few days of my cruise, there was a strong sewage smell, so I used the roll-on to help mask the odor. In the second week of my voyage, the sewage smell was gone, but I felt the air in my stateroom was getting a bit stale, so I used it on my sheets and towels, and it made the atmosphere smell and feel fresher.
I even put my roll on on my temples to relax before bed. For all these reasons, I don't think I will ever cruise without a similar product, and I don't think you should either!
Buy UpNature essential oil kit on Amazon.
Reusable bags
These bags are reusable, leakproof, and TSA-approved, and they have dozens of potential uses if you are going on a cruise.
Here are a few ways I've used them:
To contain sunscreen and toiletries
To store wet bathing suits
To store snacks or fruit from the buffet line
To store face & body wipes
To protect my phone or other valuables on excursions or by the pool
To contain clutter in my luggage or tote bag
To contain my supplements like mushroom or green powder
To organize jewelry or small gifts, I buy while in port
As you can see, the uses are endless, and they're nice to have on hand, just in case.
Buy Agato reusable Ziploc bags on Amazon.
Clothes
UVB Blocking Coverup
This is one of my favorite finds on Amazon! I loved it so much; I bought it in two colors; black and white.
This dress is the perfect coverup to throw on over a swimsuit and stay protected from the sun, but also if the temperature cools off and you find yourself on the boat or at the beach without a light jacket.
I also love it because it's a bit more inconspicuous than regular beach coverups making it great for boating, a day at the beach, running errands, and grabbing coffee. The fabric is lightweight and breathable but not too sheer that you are exposing a lot of skin. On a cruise, you could definitely throw it on and wear it to grab breakfast, lunch, or lounge about the ship.
Comfortable sandals
I've gushed about Chacos in other blog and social media posts, but my praise bears repeating. These sandals may not be the cutest, but if you are looking for sandals that you can walk miles in comfortably, don't rub your feet, and are great for the beach, look no further.
I'm on my third pair of this original style and will continue to buy these as long as Chacos make them. To me, they are the perfect travel and beach sandals thus why I've included them on this list as a cruise essential.
Buy chacos Z sandals on Amazon.
Right before my most recent cruise through the Panama Canal aboard the Celebrity Millenium, I stumbled upon this version of my beloved Chaco's and bought a pair. The verdict? I may love them slightly more than the original version because they are slip-on, making them more convenient and somewhat more aesthetically pleasing.
However, they are a bit less protective and would probably float off your feet if you used them in the water. That said, I've already ordered a black pair and am declaring them a must-have for cruising.
Buy Chaco Women's Chillos Slide Sandal on Amazon.
A lightweight waterproof jacket
I bought a jacket similar to this the last time I was in Mexico City, and it has become one of my essential travel items. It's perfect for unexpected chilly days on the ship, rain showers in ports like Costa Rica, or flying back and forth to your cruise terminal. Plus, it conveniently folds into its own small pouch, making it easy to pack or throw into a shore day tote.
I love white as it goes with everything and gives off vacation vibes, but this one from Amazon comes in 20+ colors.
Buy the JTANIB Packable Rain Jacket on Amazon.
Snacks & drinks
Electrolyte & energy drink packets
On cruise ships and port days, I feel like I'm twice as active as I usually would be at home. All the added activity, plus the surf, sand, and sun, can drain you fast and leave you dehydrated. Even if you are cruising cold climates, the elements can have the same effect on you. I love to keep individually wrapped electrolyte packets or tablets on hand for when I feel parched or need an energy boost.
Currently, these hydration + immunity drink mix packets from Salud are my favorite because they:
Taste delicious and are low calorie: these small packets turn plain water into a mouth-watering Agua Fresca drink, containing only 1g of added sugar and ten calories per serving.
Support hydration: with over 400 milligrams of electrolytes, antioxidants, and vitamins, including magnesium, salt, potassium, and coconut water powder.
Help reduce stress and improve immunity: their Wellmune formula includes 100mg of Elderberry extract.
Buy Salud hydration and immunity drink packets on Amazon.
Salud also makes a fantastic version of their drink packets that includes caffeine and B vitamins. Not only are they tasty and kinda feel like a mocktail, but I often find the iced tea on the ship is not the best, so these are a portable, convenient, and delicious substitute!
Buy Salud energy + focus drink mix packets.
Protein bars
While cruise ships are known to have large amounts of food available to guests 27/7, there are a few times when none of the food venues will be open, and you want a snack. Or perhaps they are open, but you don't want to walk or take the elevator from your stateroom up six floors to get anything. Or maybe you're starving in port, and it's going to be a while before you can get back to the ship. It's always nice to have a portable high-protein snack in those times. I love Kind minis; they're half the size of regular Kind Bars and come individually wrapped. They're perfect for keeping in your stateroom or port bag when you need to keep hunger at bay.
Tell me everything!
What are the cruise favorites you can't sail away without? What would you add to this list?
*Disclosure: I only recommend products I use myself, and all opinions expressed here are my own. This post may contain affiliate links that, at no additional cost to you, may allow me to earn a small commission. Thanks!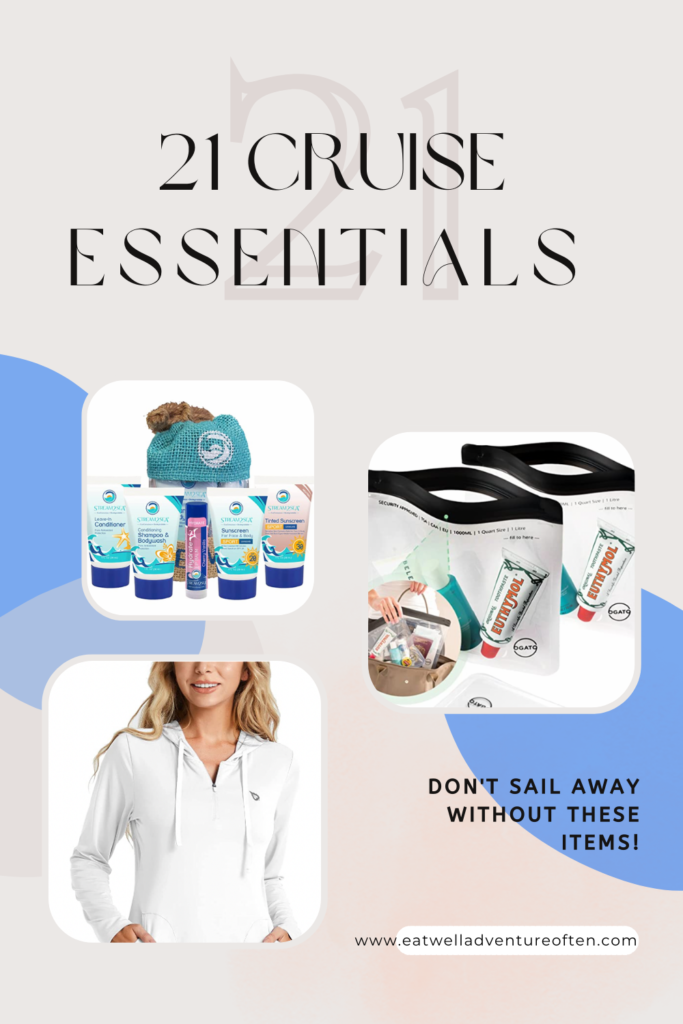 Shop more cruise essentials on Amazon.