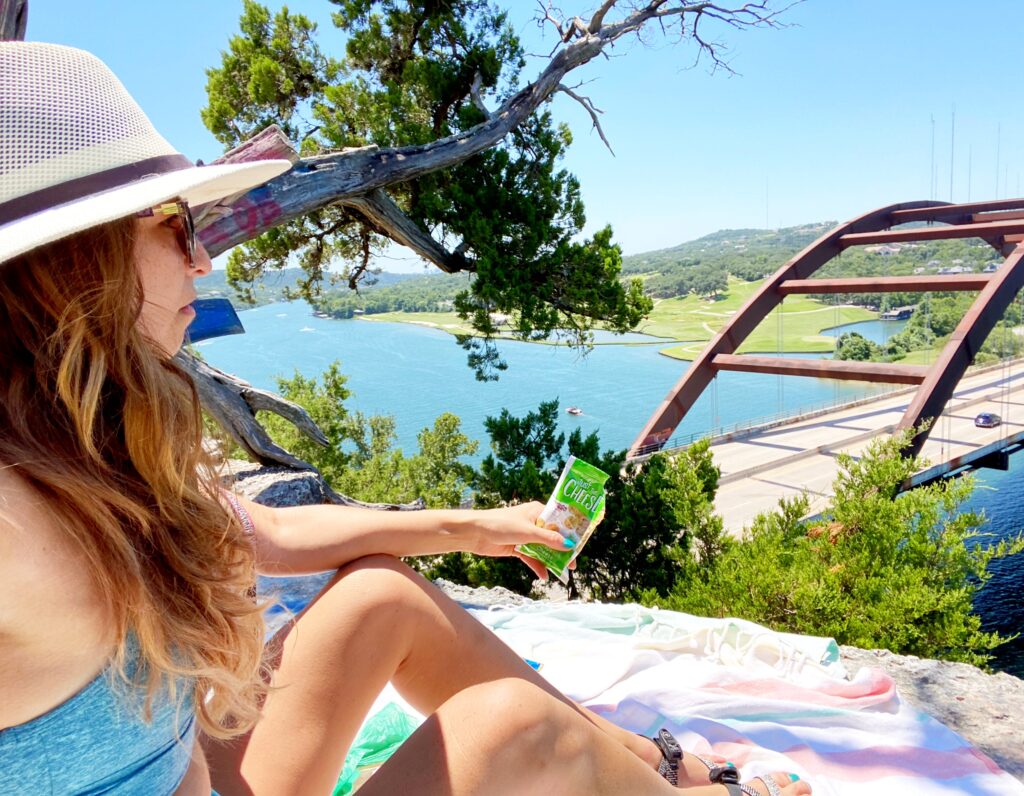 There's nothing worse than being hungry while traveling, except, well, maybe being thirsty.

To never be thirsty, I recommend taking the YETI Rambler 36 oz everywhere with you. And, make sure to get the straw cap as it will change your life. Seriously.

To stave off hunger, tote around any of the snacks on the list below. Whether you're traveling near or far, they're convenient and (mostly) healthy.
Don't leave home without these snacks:
1. Just the Cheese
Just the Cheese generously sent over an entire box of their tasty, baked cheese bars and bites and I was instantly captivated by their crunch and flavor.

They're low carb and pack about 8-9 grams of protein per package. I think you'll enjoy them on-the-go as much as I do.
Purchase Just the Cheese bars here or the minis here on Amazon.
2. Wonderful Pistachios Chili Roasted
Wonderful Pistachios Chili Roasted flavor has become my obsession! They are bold and kinda feel like you're snacking on flavored chips. However, you're not snacking on chips, you're snacking on pistachios which are full of protein and healthy fats that will curb your hunger.

Plus, they come in a super convenient, resealable bag that you can toss in your purse, backpack, or carryon.

Purchase Wonderful Pistachios Chili Roasted here on Amazon.
I'm also a fan of the honey roasted flavor which you can find here on Amazon.
3. Unite Foods Globally Inspired Protein Bars
I did it! I found the perfect protein bar. Three words: Mexican. Hot Chocolate. Yes, you read that right. These superfood-packed protein bars from Unite Foods come in a Mexican Hot Chocolate flavor and it's as rich and delicious as it sounds.

Other flavors include Churro (are you drooling yet?) and Peanut Butter and Jelly. Each bar feels decadent and has 10 grams of protein. I usually carry a box in my car and throw one in my luggage and I'm always glad that I did.

Purchase Unite Foods Protein Bars here on Amazon.
4. Babybel Mini Cheese
These round cheeses are a perfect on-the-go snack especially when paired with fruit, pretzels, nuts, crackers, or a power bar.

You can purchase them on Amazon, but they're a tad pricey. I'd recommend finding them at the grocery stores near the specialty cheeses and spreads.
5. Gourmet Nut Power Up Trail Mix
What can I say besides, I love this trail mix. Pair it with a Babybel and you've got a whole meal on the go.

I will usually make my own Bento Snack box by throwing two Babybels and this trail mix in a small divided container (similar to these right here).

Purchase Power Up trail mix here on Amazon.
It's also available in convenient 24 packs here.
6. Annie's Snack Variety Pack
Sometimes you want a snack that's salty & savory, and sometimes you want one that's sweet & chocolaty. Thanks to this snack variety pack, you can have it all whenever you want.

I'm pretty obsessed with the cheddar bunnies. They've got the perfect cheesy crunch, plus, they're great for plane rides, road trips, or hikes, etc. In fact, I usually have a bag with me!

Purchase Annie's Snack Variety Pack here on Amazon.
7. Lärabar Mini
Good ol' Lärabar's have been around for a hot minute, but deserve on-going recognition.

First of all, each bar is made with 3-5 ingredients you can pronounce. Secondly, they are tasty. And last but not least, these bars come in a fun mini size for max convenience.

Purchase Lärabar minis here on Amazon.
8. Flax4Life Muffins & Brownies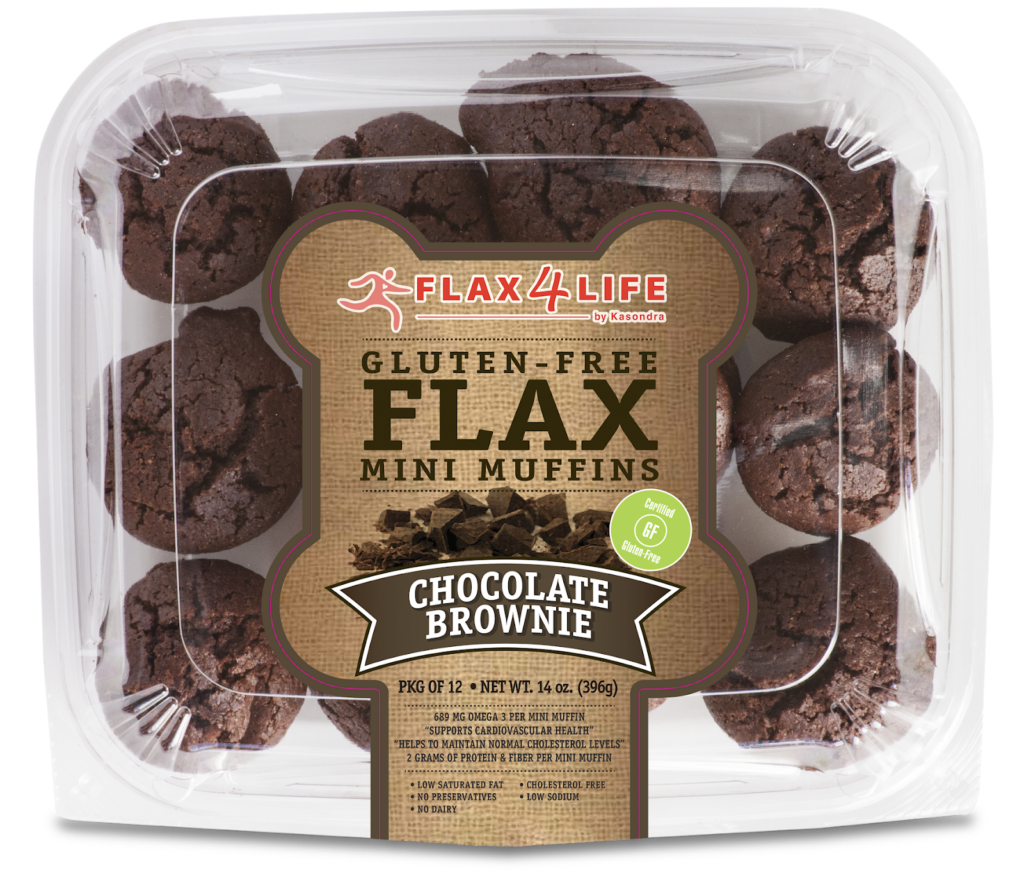 With Flax4Life gluten, nut, and dairy-free baked goods, you'll feel like you're treating yourself to a decadent dessert, minus the guilt.

So, the next time you're on the go, look to these tasty muffins and brownies made with all-natural ingredients and healthy doses of Omega 3 and fiber when you need a healthy snack.

P.S – Can you believe that just one Chocolate Brownie Mini Muffins has 689 mg of Omega 3, 2 grams of fiber, 2 grams of protein per serving, and is loaded with rich, decadent chocolate?!
9. think! Keto Protein Bar

I just love a good protein bar! They're tasty (if you get the right ones), convenient, and packed full of nutrients to keep you satiated on the go. And, if you're always on the go like I am, I'd recommend putting one of these satisfying bars in your purse, beach bag, gym bag, etc. so you're never caught without a snack ever again.
My favorite are the Chocolate Peanut Butter Pie, but Amazon also has a great variety pack you might like.
10. Banana Samba
Get a taste of the tropics with Banana Samba, a traditional Brazilian super snack made with simple ingredients and zero artificial colors or preservatives.
Slowly-cooked bananas caramelize their own natural sugars and give Banana Samba a delicious, soft, chewy texture. It's the perfect choice for health enthusiasts looking to avoid artificial energy shots and bars and curb their hunger with something simple, natural, and convenient while on the go!
Shop Banana Samba on Amazon.

Tell Me Everything!
What snacks do you pack with you when you're traveling?