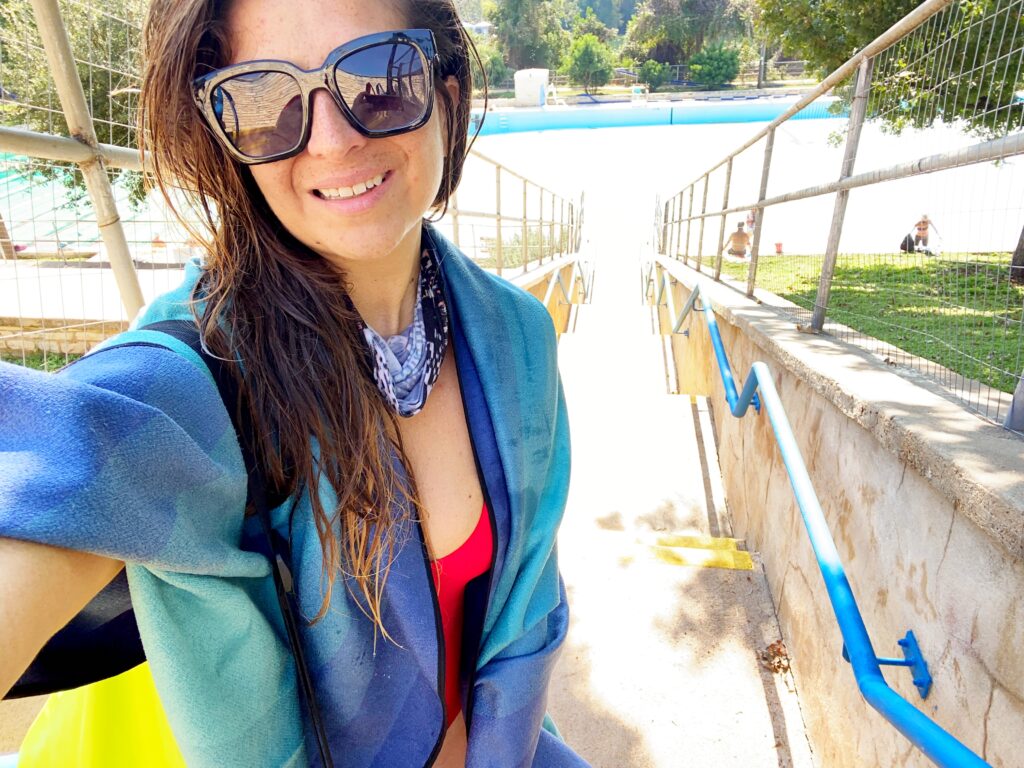 While you can't take all the comforts of home with you when you travel, you can definitely take along a few items that will make any adventure more enjoyable, comfortable, and safe.
Over the years, I've come to rely on the following list of travel must-haves. Check them out below!
Top 20 Travel Essentials
1. Reusable & Insulated Water Bottles
YETI Rambler, 36 oz
This rambler bottle from YETI is my constant companion. I fill it up with water in the morning and again in the evening as needed. Not only does it keep my water or beverage of choice ice cold for hours and hours, but this bottle is also virtually indestructible thanks to kitchen-grade stainless steel construction.
It's gone with me to the jungles of Cuba, Mexico a handful of times, down the Guadelupe river in Texas, and all over the Caribbean. Hydration is essential when traveling and there's no better feeling than knowing you'll have clean, cold water no matter what adventure you find yourself on.
Buy the YETI Rambler on Amazon
2. YETI Tumbler, 24 oz
Like my Ramber, my YETI tumbler is never far from me either. I use it daily for coffee, tea, and smoothies. Like the bigger version, it will keep your beverage of choice ice cold or hot for hours! I left this baby in my car on a summer day with iced tea and it was still cold when I came back for it a few hours later. Perhaps the only thing more impressive about this reusable tumbler is that it's dishwasher safe.
Did you know: Americans purchase 42.6 billion water bottles a year? By carrying a reusable bottle like the ones above from YETI, you can cut down on the number of plastic bottles that end up in landfills and waterways every year and save a little money too!
Buy the YETI tumbler on Amazon.
3. Doctor Plotka's Travel Toothbrush
Dr. Plotka's travel toothbrush conveniently folds into its handle taking up less space in your toiletry bag. If the smart design weren't enough to convince you to buy one, it's brush head alone deserves 5 stars!
Here are the key features that make this ordinary product an extraordinary oral health tool:
Naturally Antimicrobial* Bristles – Embedded silver naturally eliminates 99.9% of bacteria that grows on the bristles between brushing sessions.
Flossing Bristles™ – Dual-layered bristle structure provides superior cleaning: the longer, thinner bristles – thin as a human hair – reach deep into grooves, under the gumline and between teeth to brush away food and plaque other brushes miss while the thicker bristles ensure complete cleaning of gum and teeth.
Soft Long-Lasting Polyester Bristles – Get up to one extra month of use thanks to polyester bristles which bend better than the nylon bristles found in most other brushes on the market! (The ADA recommends changing your toothbrush every 3 months. Doctor Plotka's brush will last about 4!)
Dentist Developed – Dr. Ronald Plotka designed this innovative toothbrush as part of his thriving 40+ year Boston-based dental practice.
Buy Dr. Plotkas on Amazon
4. Dry Bags
Whether you're hanging out by the pool, floating down the river, or chilling at the beach, a dry bag is a must to keep your phone, electronics, ID/credit cards, etc. safe and dry.
I've had a few in my day, but this one from Geckonbrands is a favorite because it seems more durable than others on the market and it comes in 5 different sizes with an adjustable strap to easily carry it anywhere.
Buy Gecko dry bags on Amazon.
5. iDRYBAG Waterproof Backpack
I bought this backpack in October of 2019 for a 10-day cruise adventure and it was the best $25 I've ever spent. It's the perfect day pack to keep your valuables, electronics, snacks, and clothes safe from the pool or ocean. Additionally, this bag was big enough to carry a pair of snorkels, all sorts of snacks, and a YETI rambler off the cruise ship at each port of call.
Buy iDRYBAG on Amazon
6. OUTXE Phone Charging Pack
This phone charing pack is one of the best gifts I've ever received. Here's what's so amazing about it:
It's got a rubberized military shell and sealed ports
It's completely waterproof, dustproof, dirtproof, and crushproof
It's shockproof
It has a 2W solar panel
It contains an LED flashlight
Plus, it can charge your phone multiple times before it needs to be recharged itself. This power bank has saved me countless times in countless places! I definitely recommend carrying it in your car, purse, or backpack.
Buy OUTXE on Amazon.
7. Nuun Sport Tablets
I love Nuun Tablets SO much that I get them Amazon-primed to my house every 3 months! They are vital when working out, especially in hot climates like Texas.
In addition to helping me get through tough workouts, these tablets are a must-have when traveling and help me recover after a long day of swimming, hiking, biking, and sight-seeing. The combination of caffeine and electrolytes is simply magical!
Buy NUUN sport tablets on Amazon.
8. NUUN Immunity Tablets
I discovered Nuun Immunity tablets right after COVID-19 became a thing in March and they have become a vital part of my self-care routine when I'm feeling stressed, run-down or under the weather.
Each tablet contains:
electrolytes
vitamin C
vitamin D
Tumeric
Ginger
Elderberry extract
This powerful combination of electrolytes, antioxidants, and anti-inflammatories will keep your immune system in tip-top shape when you're chilling at home or galivanting all over the globe.
Buy NUUN immunity on Amazon.
9. Travel Snacks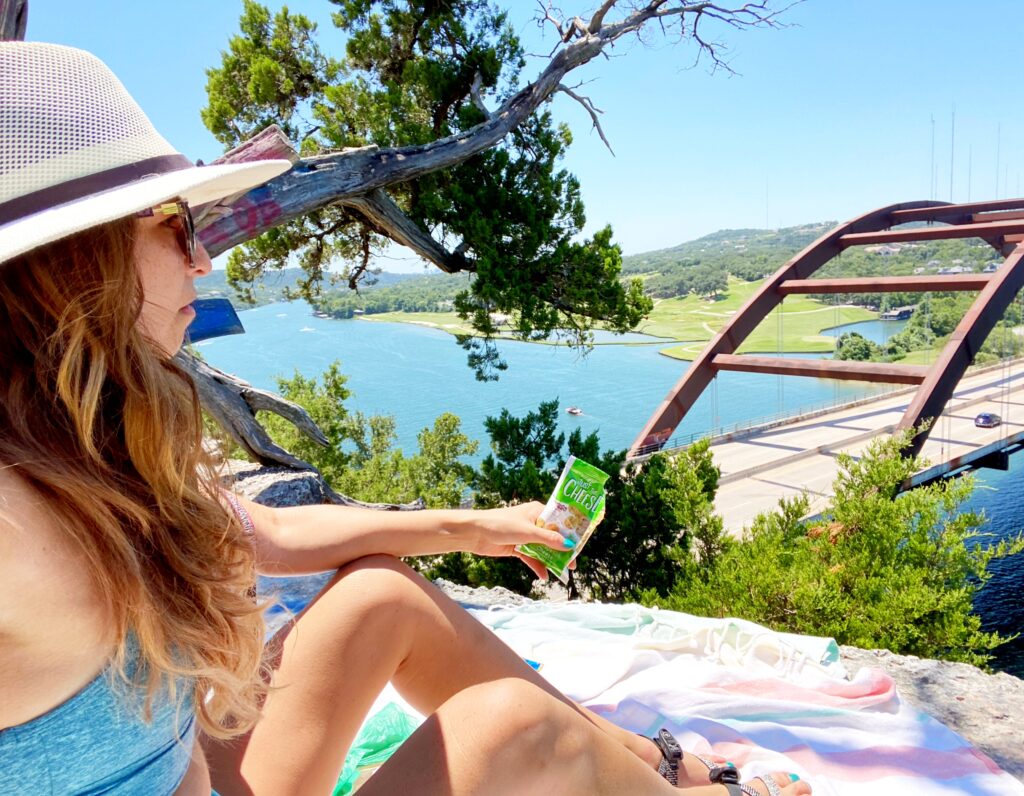 Being hungry when traveling is no fun. To avoid not having any fun due to hunger, I usually have snacks on me when I'm traveling. I wrote an entire blog about my absolute favorites. You can read it here and thank me later!
10. Chaco zCloud Sport Sandal
I always try and strike a balance between fashion and function, however when it comes to sandals, function wins.
Hands down Chacos are the most comfortable sandals I've ever worn. I wear them daily around the house, on walks around the neighborhood, and to run errands. They've also gone with me on several domestic and foreign adventures where I have worn them for hours on end while exploring.
Chacos are also perfect water shoes as they do not slip or rub your feet when they get wet like other sandals tend to do. They also have incredible grip so you never have to worry about slipping in the water or on unstable/slick terrain. I could go on and on, but I'll stop here so you can go buy a pair and see for yourself.
Buy Chacos on Amazon.
11. Packing Cubes
Packing cubes will change your life! That's right, I said it. Revolutionize how you pack by investing in a set like these from Veken. I don't know how the exact science works, so I'll just say this, somehow by using them you'll be able to pack more stuff in a small space more efficiently and stay more organized the whole time you're traveling. Think no more overflowing bags at the airport and no more unpacking your entire suitcase to find one item.
Buy Veken packing cubes on Amazon.
12. Insulated Soft Cooler
Yeti Hopper Portable Soft Cooler
I cannot live without my YETI cooler. I bought one 6 years ago and I use it all the time, especially in 100 degrees Texas summers. Like YETI's tumblers and ramblers, this cooler will keep your drinks cold for days (depending on weather conditions and your food from spoiling.
I really hate being without cold drinks in the summertime, so I keep my YETI hopper in my car and I'm always glad I do. I have a tendency to randomly end up at the lake or beach and it's nice to have a reliable and durable cooler on hand. The bag design of the hopper is perfect for road trips, overnight trips, weekend trips, etc. Heck, I know some people even take their coolers on planes as their carry-on!
Buy the YETI hopper on Amazon
RTIC Day Cooler
Similar in theory and function to the YETI hopper, this RTIC cooler will keep things cold for up to 24 hours (depending on weather conditions). Although it's considerably smaller than the YETI hopper, it has plenty of room to carry a 6-pack or lunch for two. It also has pockets to store water bottles and snacks on the side and a padded strap to carry it with ease. Unlike the YETI hopper, this cooler isn't leak-proof, so it's best to use ice packs like YETI ice instead of regular ice or just make sure to drain it regularly and don't place it on anything that you don't want to get wet.
Buy RTIC Day Cooler on Amazon.
13. Goodr Sunglasses
My friend Lee (coffee_cheers) put Goodr sunglasses on my radar right before I took a trip to Miami and I am extremely glad he did. These sunglasses are durable, flexible, soft to the touch, have reflective polarized lenses, and are super cute!
I mean look at this color! It's called Nessy's Midnight Orgy, how hilarious and wonderful is that? And at just $25 a pair, how could you say no?!
Buy sunglasses on Goodr.com

14. Carabiners
I cannot even tell you how many times these things have come in handy when traveling! Here's just a few ways I've used them:
Hook floats together when floating the river or on the lake
Hook my water bottle to my backpack
Keep bags together/closed
Hook my shoes/snorkel/hand-sanitizer to my backpack
Hook my keys to my bag/clothing/wallet/dog leash
And the list goes on and on…
Buy carabiners on Amazon
15. TP Kits
When ya gotta go, ya gotta go, so always be prepared when nature calls with TP kits. They are 100% biodegradable and consist of 5 double-ply toilet paper tissues and 2 sanitizing wipes. They are the ultimate essential for your adventures especially road trips, trail running, hiking, camping and any other recreational adventures that take you off the beaten path.
You can buy them in single packs or a case of 10. They're small and compact, so I usually throw one in my backpack or day back and keep a few in the car just in case!
Buy it on TPKits.com
16. Nabee Compression Socks
Ever wonder what the deal is with compression socks? A lot of people love to wear them on airplanes and nurses swear by them because they:
improve circulation to alleviate pain, swelling, and fatigue
Prevent spider and varicose veins
Shorten recover time after exercise
I usually throw these socks in my carry-on and slip them on after a full day of walking—the next day difference is definitely noticeable!
Buy it on Nabee.com
17. Buff Headgear
At the start of COVID-19, I bought a Buff Multifunctional Headwear. Growing up in Texas, I'd always seen fishers use them along the Texas gulf to keep the sun off their face and neck and the dirt off their face, so it seemed like a solid choice for a mask.
Since March 15, 2020 I don't think my neck or arm has been without a Buff. In fact, I've used my first one so much it has lost a little bit of it's elastic. I wear it as a face mask, around my neck when I'm exercising, as a headband when I need to keep my hair out of my face, as a towel when I need to wipe my hands off and while in Miami I draped it over my head to prevent my face and scalp from burning.
Needless to say, I'm a HUGE fan of this product and think it's worth every damn penny. Pandemic or not, I don't think I'll ever be without one by my side. They come in a variety of fun colors and patterns like the one above!

Shop Buff Headwear now on Amazon.
18. Panama Jack Hats
I've bought many hats on countless adventures from grocery stores and local shops and they all seem to be Panama Jack brand.

If you're out in the elements when traveling, especially in the water, you won't last long with the sun beating down on you, so a hat is a must! I love these hats because they're inexpensive, sturdy, lightweight, and have built-in SPF protection.
Buy Panama Jack on Amazon.
19. Nomadix Ultralight Travel Towel
The Only Towel You Need™ is a high-performance yoga towel, beach towel, and travel towel all-in-one. Nomadix designed this product to be versatile without sacrificing performance, so you can own less and do more. What's even more amazing about these towels is that they are made with post-consumer recycled plastic bottles. That's right, one towel equals 30 plastic bottles. That's what helps make them durable, lightweight, and buttery soft. Oh, and did I mention that they're sand resistant, quick-drying, and super absorbent too?! Nomadix towels pack down small for easy travel so you can take them on any adventure.
Buy Nomadix on Amazon.
20. Geekey
Geekey is an innovative, compact, multi-function tool that expertly combines 16 tools into one simple device you can carry with you anywhere. It includes a:
metric and imperial sized closed wrench
bit driver for quick fixes
TSA-compliant serrated edge and handy scoring tip
bike spoke wrench for those off the grid rides
bottle opener
smoking pipe
closed wrench
can opener
wire bender
wire stripper
file
scouring tip
serrated edge
The smart design of the Geekey Multi-tool is lightweight and compact enough to fit right on your keyring, and crafted from incredibly durable 420 stainless steel that's designed to last through a lifetime of adventures. Geekey was created for bikers, outdoor adventurers, handymen, and anyone else looking to always be prepared when on-the-go.
Buy Geekey on Amazon.
Tell me everything!
What would you add to this list?
*Disclosure: Thanks to some Nomadix, Geekey, TP, Nabee, and TP kits for sponsoring this post. I only recommend products I use myself and all opinions expressed here are my own. This post may contain affiliate links that at no additional cost to you, may allow me to earn a small commission. Thanks!