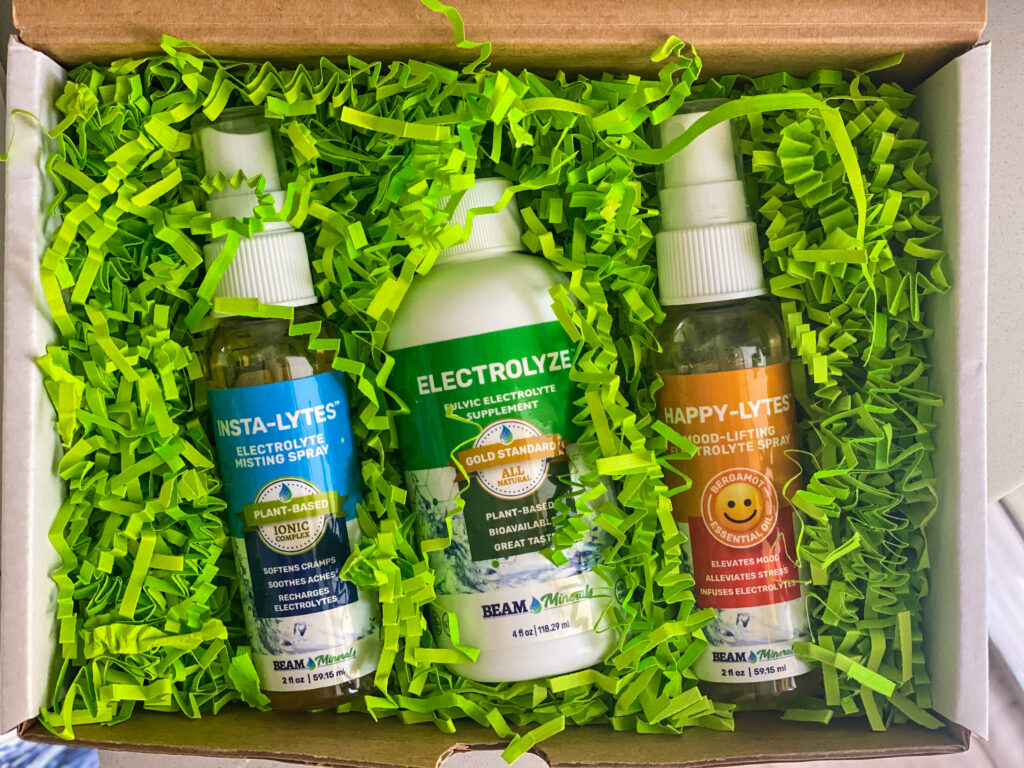 If you Google the definition of "self-care" you'll get this definition: the practice of taking action to preserve or improve one's own health. With everything going on in the world right now, I think self-care is more important than ever. So, I put together this handy guide full of products and resources to help you take care of your physical, mental, and spiritual health.
Take a holistic approach to self-care with the following health & wellness products.
Food & Drink
Good Made Great Elderberry Immune Support
Elderberries have been used for centuries in traditional medicine. Hippocrates, the father of medicine, referred to elderberries as, "nature's medicine chest." And it's no wonder as these powerful berries contain vitamin A, potassium, calcium, vitamin C, and high levels of antioxidants.
In the past, Elderberry syrup has been packaged similarly to cold syrup, but Good Made Great has taken the challenge of turning powerful elderberry berries into a delicious no-mess drink mix that's perfect for on-the-go immune support. I simply pour a packet into some hot or cold water and drink it up anytime I'm feeling a bit lethargic or under the weather.
Shop Elderberry Immune Support on Amazon.
Three Hermits Wellness Shots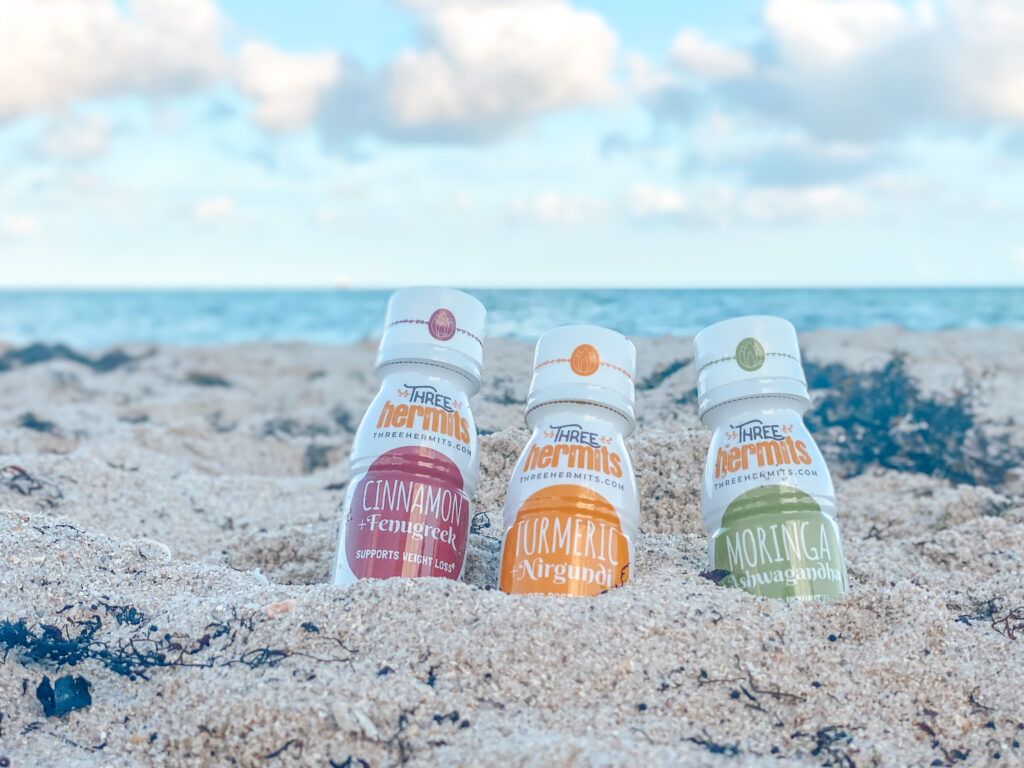 Three Hermits believes that food is medicine, and relies on all-natural, plant-based ingredients to create immunity-boosting drinks that are not only healing for your body but also taste delicious.
Three Hermits offers:
Moringa + Ashwagandha
Moringa is also known as "The tree of life" since every component of the tree has various healing properties and increases overall vitality. Ashwagandha is used to strengthen your immune system, increase stamina, and help decrease your stress levels.
Turmeric + Nirgundi
Turmeric is considered a "healer for your body", and aids in muscle recovery. Nirgundi is an anti-inflammatory and is effective in treating a multitude of symptoms including headaches, coughs, abdominal pain, and sprains.
Cinnamon + Fenugreek
Cinnamon helps lower blood sugar levels, boost insulin sensitivity and slow down the emptying of the stomach to reduce sharp blood sugar rises after a meal. Fenugreek slows the absorption of sugars in the stomach and stimulates insulin. In traditional Chinese medicine, the spice is known as a "phlegm mover" and is said to break up stuck energies and cool inflammation within the body.
Sunny Culture Probiotic
Sunny Culture's mission is to improve gut health and wellbeing for all with a delicious probiotic water kefir drink that makes you feel happy inside and out. Their mission is based on 3 core values: wellness, quality, and joy. Each of their probiotic wellness shots and kefir drink is packed with functional ingredients like ginger, elderberry, cayenne, and live fermented probiotics. They're sure to give you the boost your body needs—anywhere, anytime!
Shop Sunny Culture Probiotic on Amazon. (Both drinks and shots are available wholesale across Florida and at Whole Foods)
Salud
Raise a glass to wellness with Salud, the new hydration + immunity drink mix brand. Agua Frescas just got healthier thanks to powerful electrolytes, vitamins, and minerals. Salud also includes 100mg of elderberry and Wellmune®, a clinically-proven ingredient that boosts your immune system. Did I mention Salud comes in a variety of delicious traditional agua fresca flavors like Jamaica, Pepino Limon, Mango, and Horchata? They're a perfect sunny afternoon sipper!
Shop Salud
karviva Unwined
Juice that tastes like wine and has calming herbs and immune-boosting antioxidants? Yep, that's Karviva Unwined. I'm not a huge alcohol drinker, however, I do love a nice glass of red wine (Cabernet to be specific) and this juice tasted pretty similar. So if you're looking to unwind, "unwind with a glass of wellness."
Buy Karviva Unwind on Amazon.
Karviva also makes amazing sport juices with antioxidants, college, and electrolytes. Check them out on Amazon.
Erin's Elderberries
Did you know that elderberries are packed with antioxidants and vitamins that may boost your immune system? All this antioxidant goodness can help tame inflammation, lessen stress, and help protect your heart, too. Some health experts even recommend elderberry to help prevent and ease cold and flu symptoms.
Erin's Elderberries are handmade using certified organic ingredients and local raw honey. Their brand's mission is to handcraft the highest quality elderberry at an affordable price, so you won't find any preservatives, thickeners, or emulsifiers in their syrup, just natural ingredients.
Shop Erin's Elderberries.
Forage Hyperfoods
Mushrooms are having their moment! It all started with mushroom coffee now there are powders and tinctures all touting the fungi's immune and sometimes brain-boosting benefits
This particular Chaga tincture from Forage is a blend of adaptogen + antioxidants to create an immunomodulatory that promotes overall wellness and digestive health. Simply mix it into the beverage of your choice and drink to your health.
Buy forage hyperfoods Chaga tincture on Amazon.
Shop all forage hyperfoods tinctures and products on Amazon.
Stash Tea
Stash tea offers a plethora of herbal, black, and green teas to help you find your zen when times get a little tough or if you're just looking to wind down after a stressful day. Choose from:
Shop all Stash tea on Amazon.

Health & wellness
Dr. Plotkas Mouth Watchers
A toothbrush filed under self-care? That's right! Dr. Plotkas Mouth Watchers are embedded with silver technology to eliminate 99.9% of bacteria build-up for up to 6 hours after brushing.
Shop Mouth Watchers and Use Code: EWAO15 for 15%f off.
Or shop Dr. Plotkas on Amazon.
Gentle Pak Hot and Cold Packs
Although the Gentle Pak was originally created specifically for lady parts during menstruation, pregnancy, and post-partum, this genius ice/heat pack works for a variety of discomforts. Think joint, knee, groin, back, and muscles pain.
Seriously, these ice & heat Packs are ready for anything! That's because they are conveniently made with a washable, quick-dry & wick-away fabric, so they're easy to heat, freeze, and clean. Plus, your sore and tender areas will be cushioned and supported while in use.
Shop Gentle Pak on Amazon.
Trust biologic CBD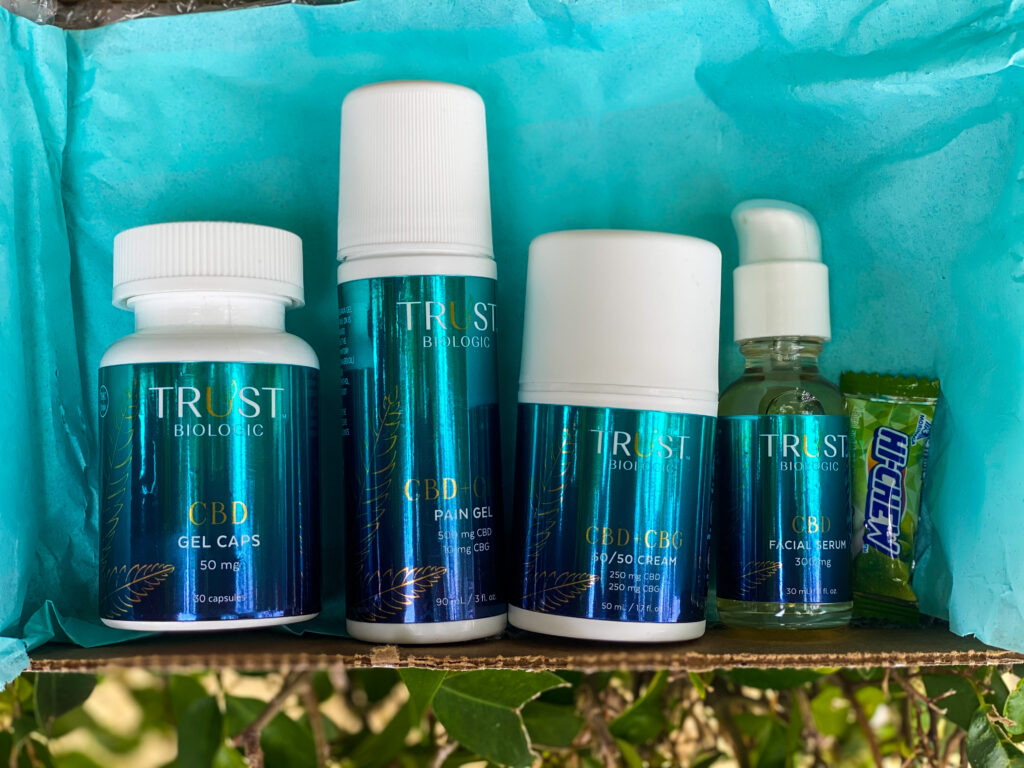 Trust Biologic is here to help you stay active, even as you age, with high-quality cannabinoid products at an affordable price.
I swear by their CBD Pain Gel, an innovative cannabinoid formulation combining CBD and CBG with research-proven active ingredients such as menthol, camphor, and licorice root extract. It can be applied directly to the area of discomfort and penetrates deep into the skin and soothes irritated muscles and joints. Simple roll-on and feel the cooling sensation that is amazing for tense and achy muscles. It relieves inflammation caused by skin irritants, rashes, sores, irritated tendons, sore muscles, elbows, hips, neck, and back pain, and more.

I also love their 50/50 cream which is designed to reduce inflammation, sun spots, discoloration, and sun damage all while restoring balance to your body's biggest organ—your skin.

Trust Biologic products are all-natural, vegan, cruelty-free, gluten-free, and made in the U.S.
Shop Trust Biologic. Use code: TrustAdventure20 for 20% off.
Keto-Beam Minerals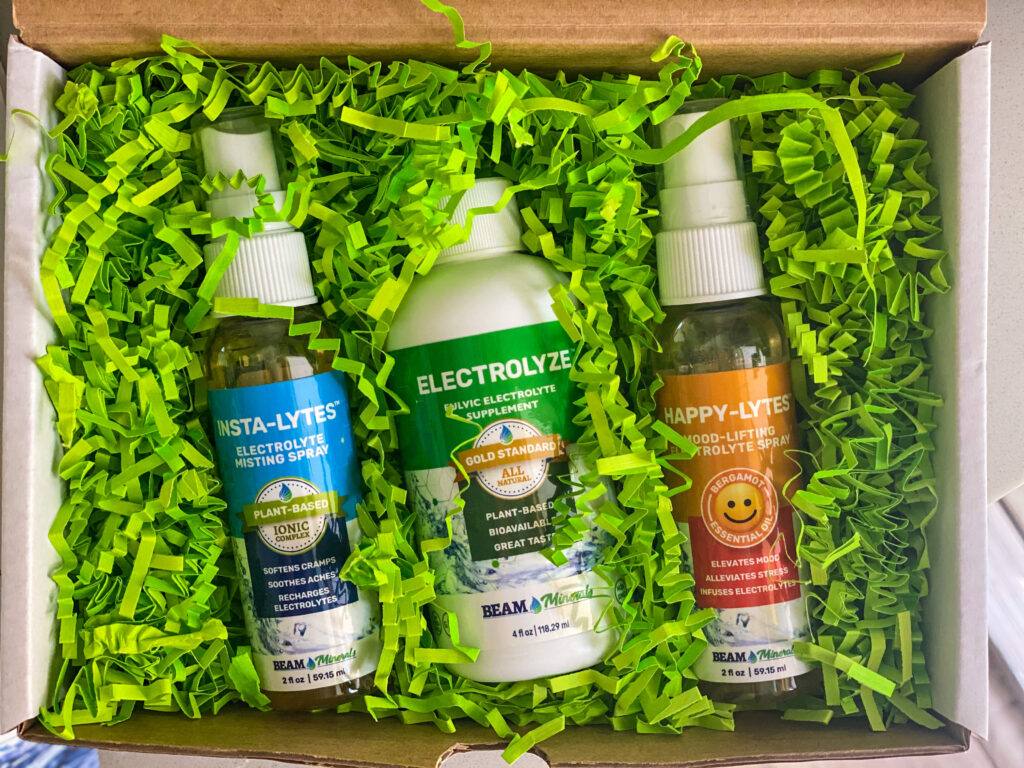 Self-care includes your physical health. Keto-BEAM micronutrients and electrolyte supports your immune system by:
Providing electrolyte replenishment
Aiding in cellular detoxification and digestive well-being
Assists in nutrient assimilation.
Swig a capful of the Electrolyze when you need the assistance of electrolytes and 70+ trace minerals or mist yourself with Insta-Lytes post-workout when you want to eliminate cramps, lactic acid or detox your cells.
Shop Keto Beam minerals.
Active-PK
If you're looking for an herbal way to increase energy, fight fatigue and help your body keep optimal weight, Active-PK is the supplement for you. Normally, I wouldn't advocate for any sort of diet pills, however, this supplement is made from adaptogenic herbs and plants like Gynostemma Pentaphyllum (similar to Ginsing) and Quercetin (found in berries, citrus fruits, wine, and tea) to help your body minimize unhealthy cravings, boost energy, and combat abdominal fat naturally.
Shop Active-PK on amazon.
Beauty & Skincare
Strands of Faith
Want healthier hair? Strands of Faith is here to help with this part of self-care! They're a beauty and lifestyle brand devoted to creating hair products for (multicultural) women that hydrate, revitalize, and moisturize the hair.
Their signature Holy Grail Collection has everything you'd need to wash and nourish your strands:
1 Conditioning Refresher Spray (8 oz)
1 Moisturizing Cream (12 oz)
1 Leave-In Conditioner (8 oz)
1 Twisting Butter (8 oz)
1 Cleansing Co-Wash (12 oz)
1 Intense Deep Treatment (8 oz)
Plus, all their products are free of sulfates, silicones, parabens, mineral oil, phthalates, and paraffin.
Shop Strands of Faith.
Love, Indus Skincare
Take your skin on a self-care "Indus" or journey with the new skincare line from Love, Indus! Potent formulations of precious ingredients from the Indian subcontinent come together to detox and nourish your skin. Think ethically sourced clean ingredients such as Darjeeling tea, vegan ghee, and golden Muga silk that have been deliberately chosen for their efficacy and purity.
Shop Love, Indus.
Miami Beach Bum Skincare
"Make bum + body care a daily ritual" with Miami Beach Bum. Two jars is all you need to tackle unwanted fine lines, blemishes, bumps, and dry patches. The Facial in a Jar and Bum + Body Cream will leave your skin feeling healthy from head to toe

Shop Miami Beach Bum skincare products.
Use code EATWELLADVENTUREOFTEN10 to take $10 off!
Home Goods
PeachSkin Sheets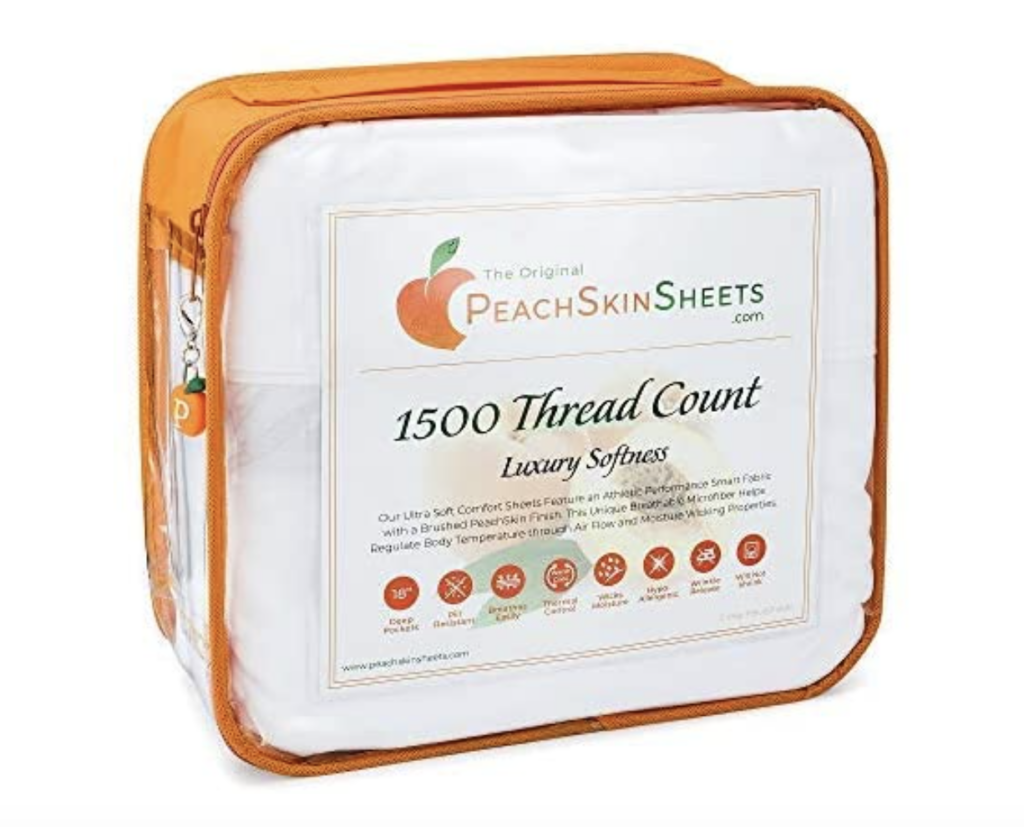 The average human will sleep over 200,000 hours in their lifetime. Yep, you read that right, you will spend 1/3 of your life in bed. That's because sleep is an essential function that helps you heal, repair, and restore. So, it should be of no surprise that I've included some of the softest sheets on the market on this list. PeachSkin sheets are perfect for anyone looking to uplevel their sleep aka self-care game.
Books
Inner Alchemy: The Path of Mastery
Inner Alchemy aims to provide something that author Zulma Reyo feels is lacking in the world today: an inner anchor that enables conscious management of the self and understanding of what is really happening beyond appearances, what being human is about, and what the world needs.
Zulma has spent her entire life studying diverse teachings as the wisdom traditions of the East, Western psychology and philosophy, esoterism and the occult, bioenergetics, parapsychology, bodywork, and much more besides, learning and teaching about the human existence. Now, she is sharing with the world how to make change happen — and, it all begins with ourselves.
In the book, Zulma touches on topics like:
What exactly is an "Inner Alchemy" and why it matters to everyone
How to calm our inner chatter to better connect with the "still, small voice" within
How to better enjoy, refine, and respect your body as the instrument of the greater life
How to recognize the spirituality in your day-to-day, ordinary situations
The difference between an ordinary human being and (a soul-connected) an individual who lives in harmony with all of life
How states of silence/meditation serve practical/utilitarian intelligence
What is the role of (ego) individuality and authenticity in spiritual identity (development)?
How we can "know"/decode multidimensional causes that determine physical reality? What is intuition, spirituality and higher knowing?
What is the greatest Power in a human being? How and why? How can a human being tap into genuine Power and its ethical uses (to construct a better world)?
Buy Inner Alchemy on Amazon.
More Self-Care Resources
Yoga with Adriene
10.2 million subscribers on Youtube don't lie. Yoga queen, Adriene Mishler has a yoga video for everything from neck & shoulder pain to uncertainy and beyond. I love her 10-15 minute vidoes in the morning when I don't have a ton of time, but want to get in a light workout.
Headspace
Meditate, sleep, wake up, and focus better with this app.
Wondergrade
This app helps kids regulate their emotions and find their calm.

Tell me everything!
What are your favorite self-care products or rituals?

*Disclosure: Thanks to Keto Beam, Peachskin sheets, Trust Biologics, and Dr. Potkas for sponsoring this post. I only recommend products I use myself and all opinions expressed here are our own. This post may contain affiliate links that at no additional cost to you, I may earn a small commission. Thanks!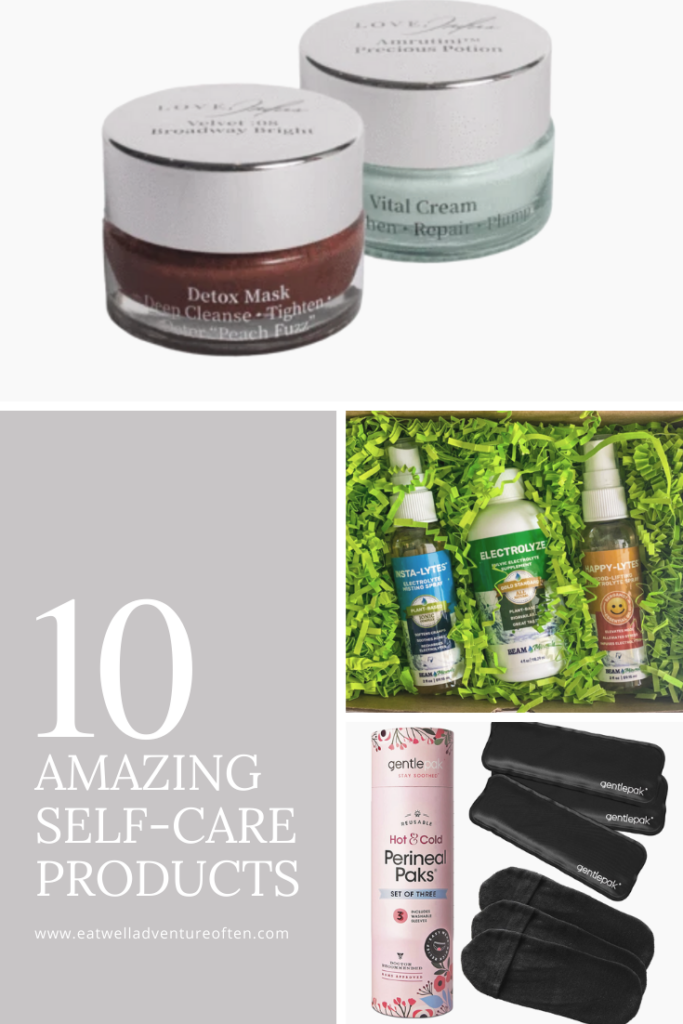 Shop other self-care goodies!