T-minus 4 days until Christmas! Need a last-minute gift? May I suggest a Gourmet Gift Basket? They're delicious (think popcorn, chocolate, and even Champagne) and require no wrapping by you. Just select one and send it to a loved one, family member, or friend. Gourmet Gift Baskets are sure to spread the holiday cheer! Order ASAP to get one by Christmas Eve.
Top Gourmet Gift Basket Picks
Under $50
Snowflake Popcorn Tin – Starting at $24.99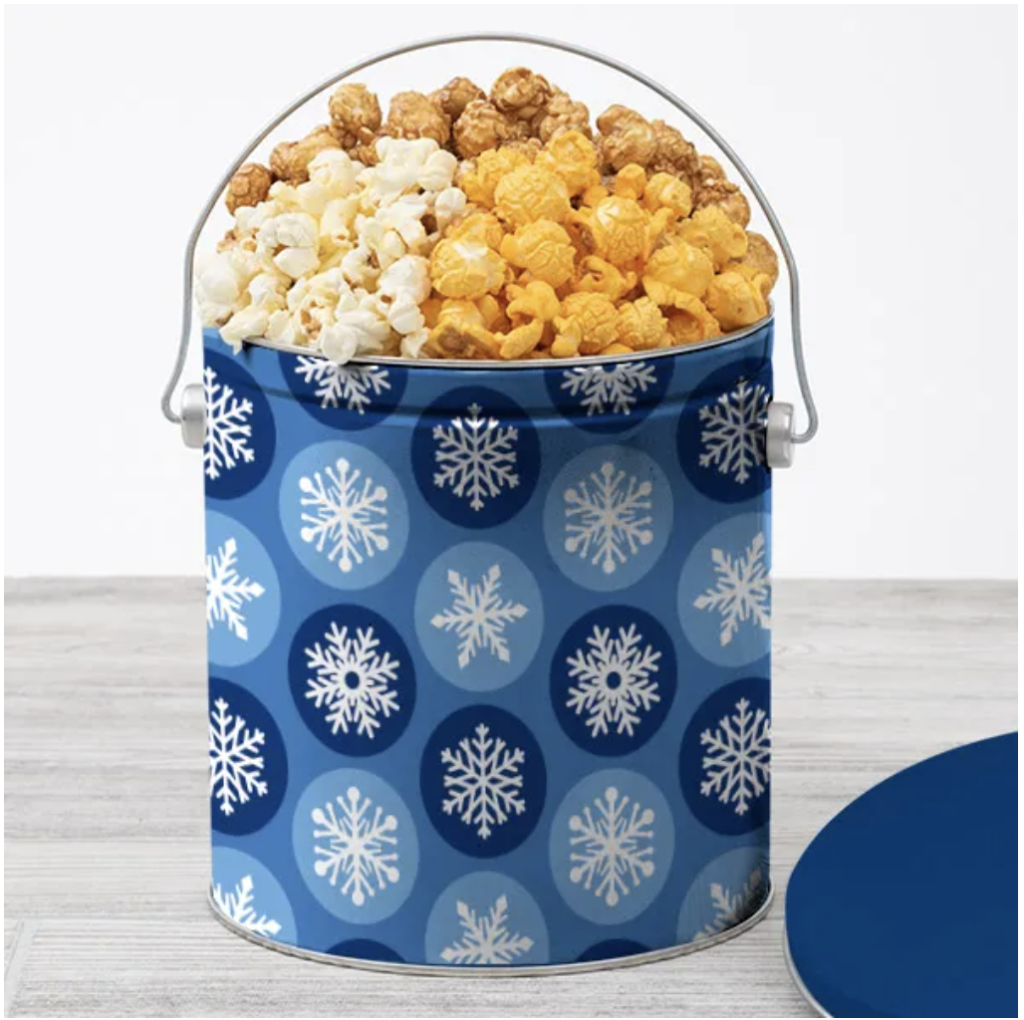 Sending someone the perfect combination of popcorn during the holiday season is somewhat of a tradition! That's why we created this classic snowflake popcorn tin and filled it with popcorn that is sure to impress. Choose from our Traditional or People's Choice flavor combinations and send them a gift they are sure to enjoy!
A Taste of Christmas Gift Basket – $39.99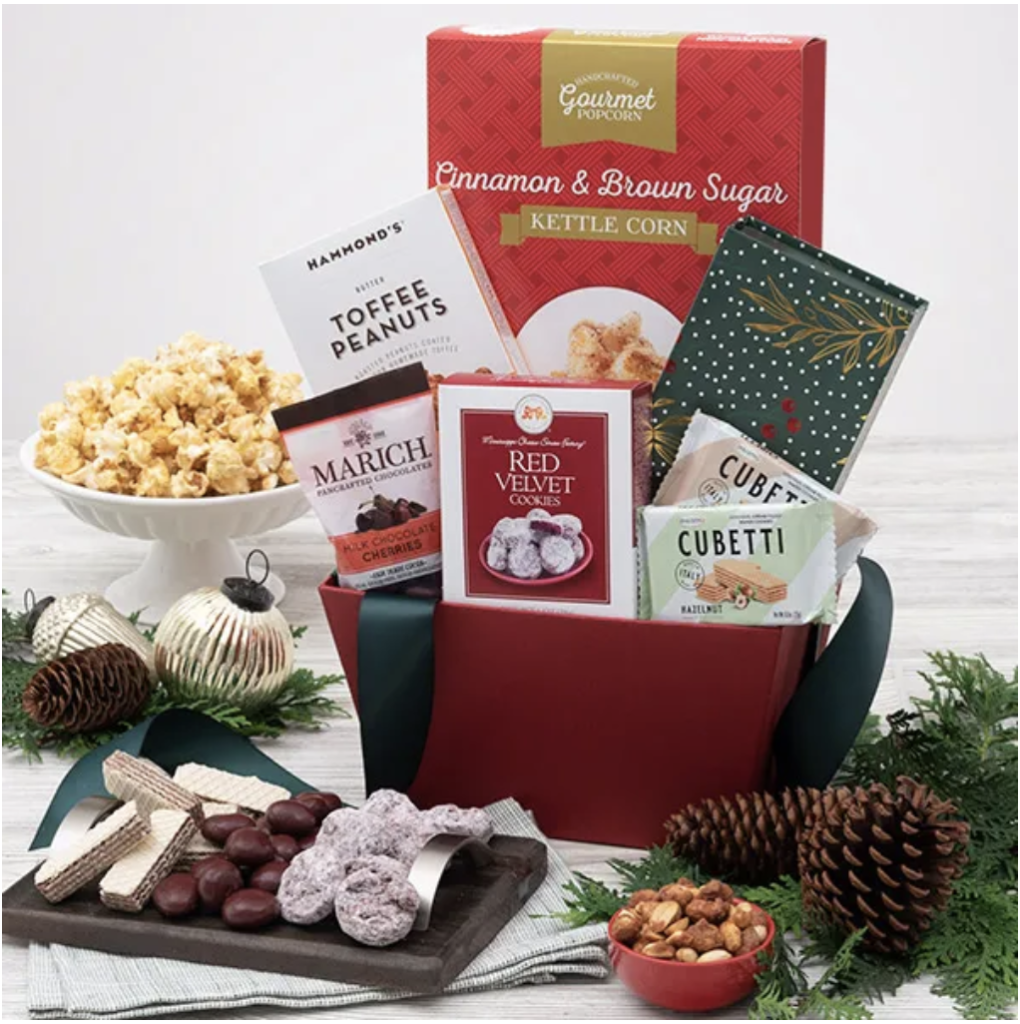 This beautiful red open-top gift box is filled with a careful selection of classic holiday snacks and wintry gourmet treats. This Gourmet Gift Basket is complete with gourmet kettle corn, irresistibly smooth chocolate-covered cherries, red velvet cookies, and a few more delectable treats. It's the perfect holiday gift for anyone on your list!
Buy A Taste of Christmas Gift Box
Happy Holidays Snack Gift Box – $34.99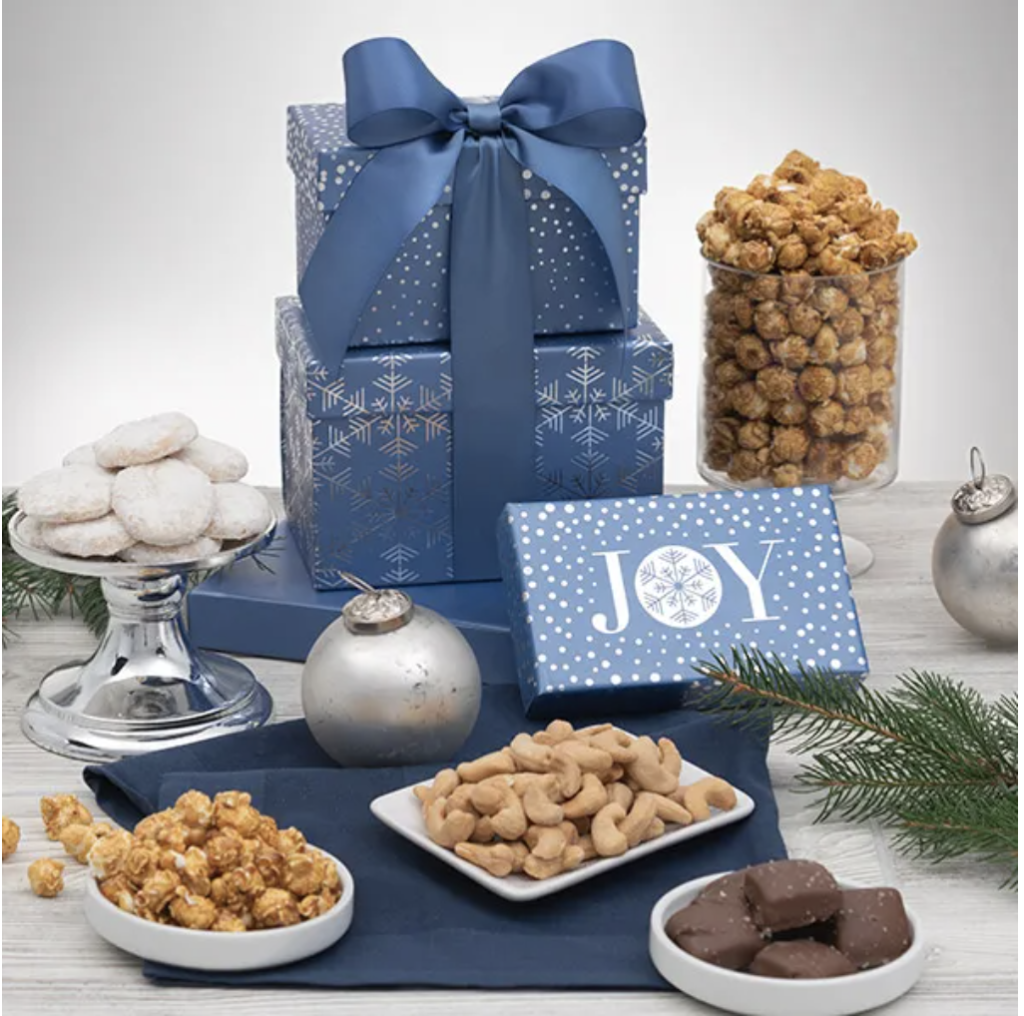 This festive mixed pattern gift tower is just what Santa ordered to spread joy and cure the winter blues! Each beautiful box contains gourmet snacks like handcrafted caramel popcorn, lemon cooler cookies, roasted and salted cashews, and milk chocolate sea salt caramels. Your recipient will forget their pre-holiday worries while enjoying these delicious treats!
Buy Happy Holidays Snack Gift Box
Under $100
Just for you – Joy & Cheer – $99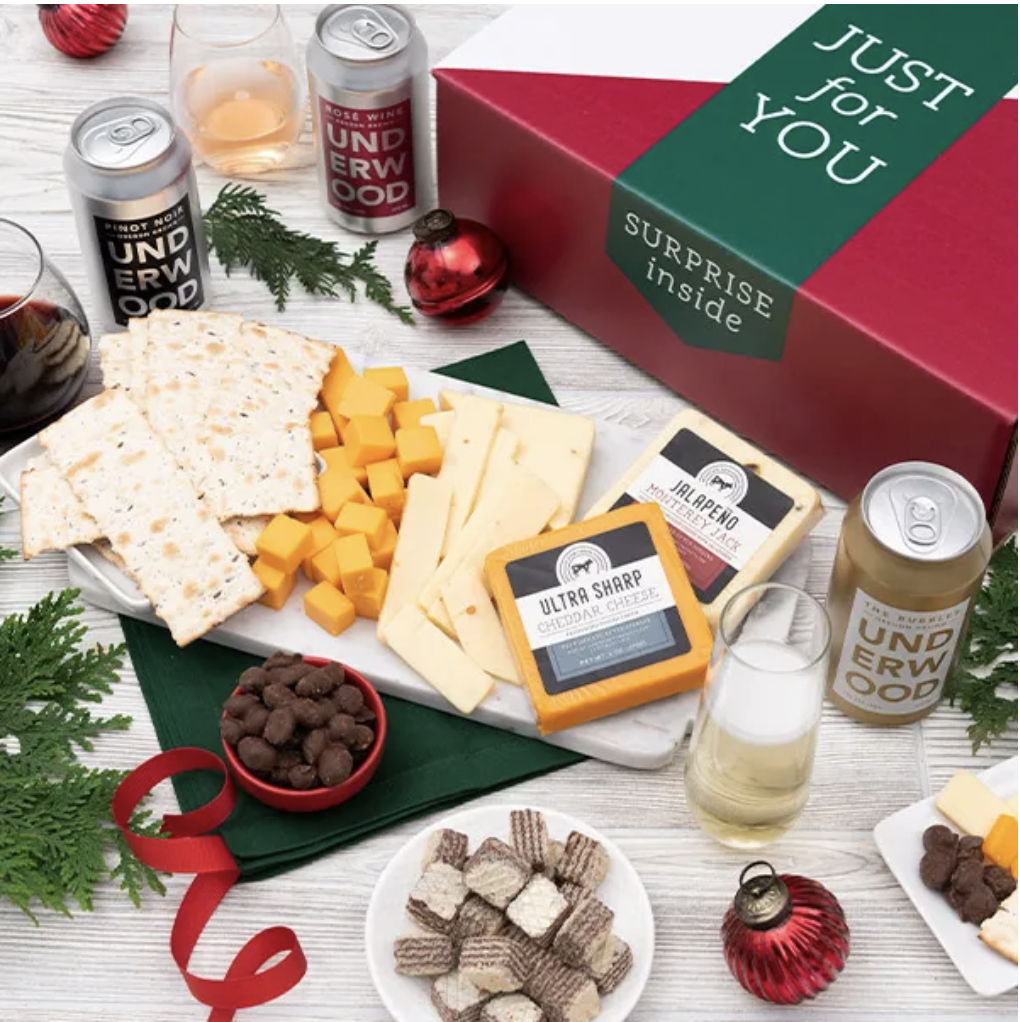 Spread some joy & cheer this holiday season with one of our Just For You care packages filled with everything they'll need to ring in the holidays. This gift includes three new favorites like vegan and gluten-free Underwood wines – Bubbles, Rosé, and Pinot Noir. Paired with traditional favorites like flatbread crackers, jalapeno Monterey Jack cheese, cheddar cheese, double-dipped chocolate peanuts, and wafer cookies. This gift is bound to make the season merrier when you add a personal card message at checkout to this festive holiday care package!
Buy Just for you – Joy & Cheer
Just for you – Feliz Navidad – $79.99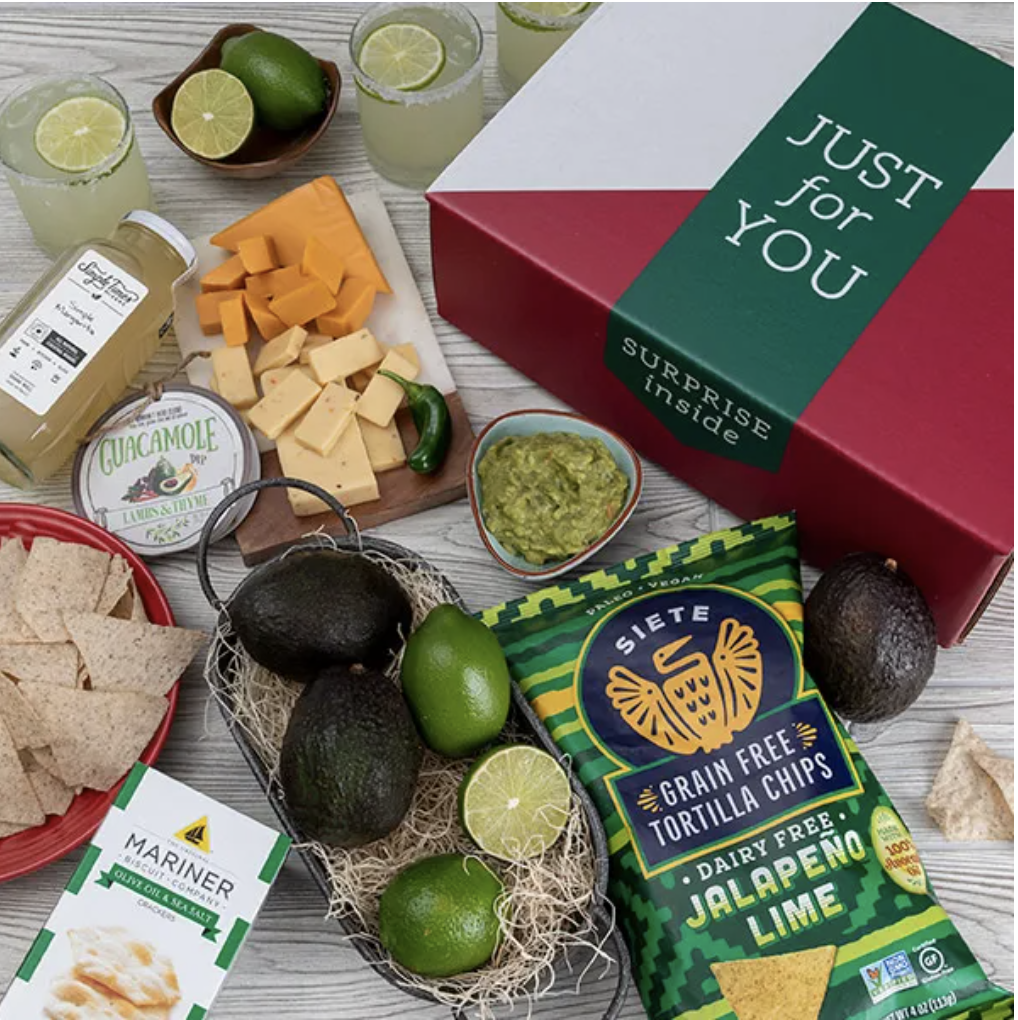 No matter where they will be this Christmas they'll gather around the table to enjoy our festive Just For You – Feliz Navidad care package! Everyone loves fresh guacamole, so we've made it easy for your gift recipients to make their own. Everything's included: avocadoes, lime, and Lambs & Thyme herb blend guacamole mix. We've also added in jalapeño lime tortilla chips, cheddar cheese, jalapeño Monterey Jack Cheese, and sea salt water crackers. There's even a simple margarita mixer they can make their own cocktails with too! This gift is so delicious we doubt there will be anything left for Papá Noel (Santa) to enjoy
Buy Just for you – Feliz Navidad
Happy Holidays Meat & Cheese Gift Tower – $74.99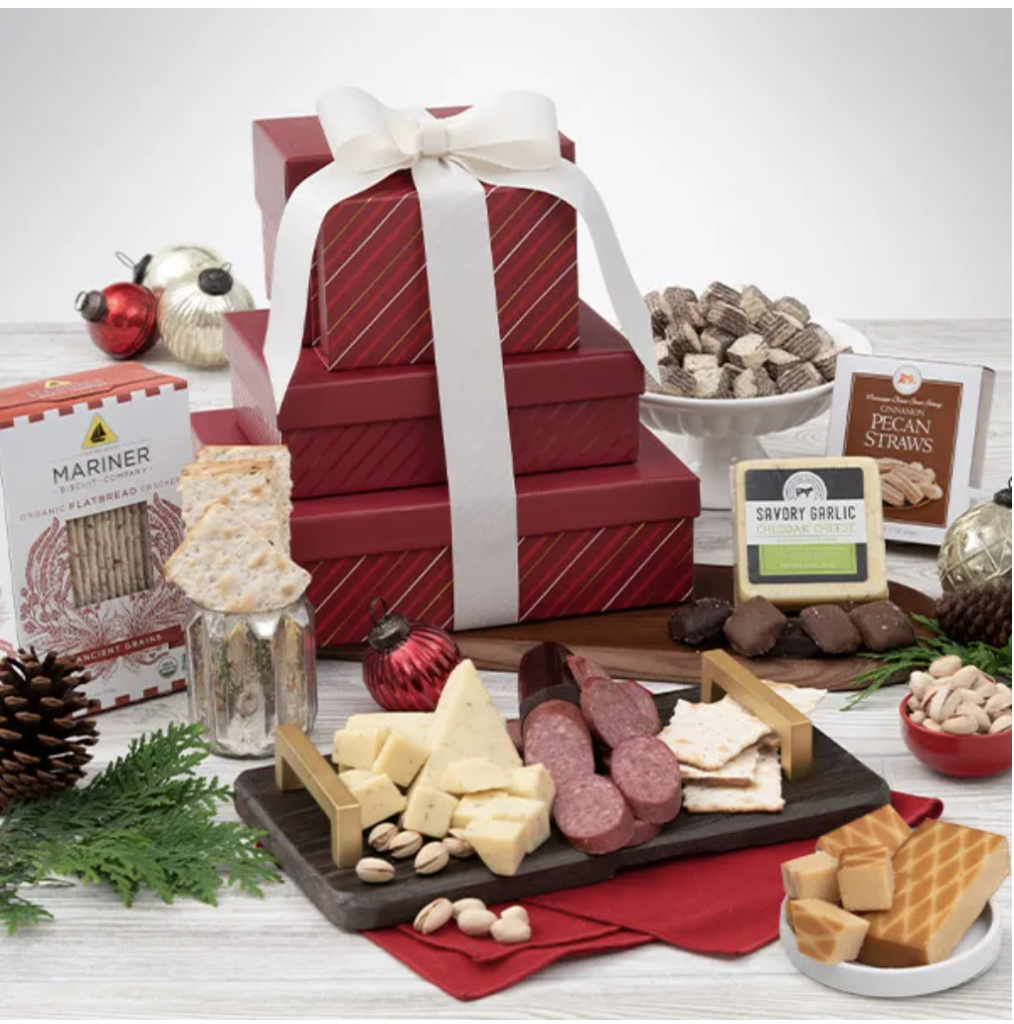 Brightening up anyone's holiday couldn't be easier than with this festive Happy Holidays Meat and Cheese Gift Tower. Tucked inside diagonally striped cranberry-colored box tiers are holiday classics like chocolate sea salt caramels, cheese, flatbread crackers, and all-around favorites like roasted pistachios and smoked gouda cheese. This holiday gift will help make your recipient's season bright!
Buy Happy Holidays Meet & Cheese Gift Tower
Under $150
Christmas Morning Breakfast Gift Basket – $124.99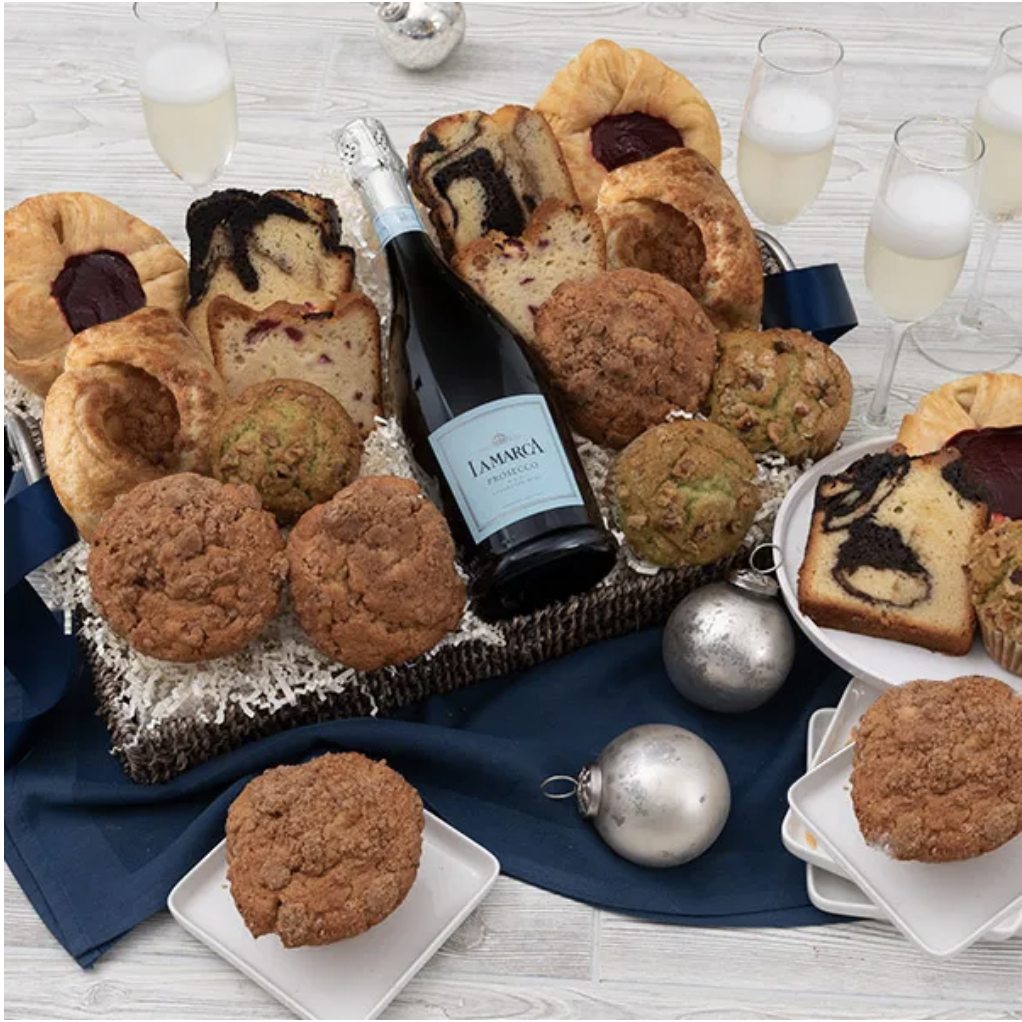 Make the most anticipated morning of the year even more exciting (and give them the stamina to unwrap all those presents) with a gourmet baked goods breakfast. Carefully arranged in an adorable woven seagrass tray basket are our freshest morning pastries including muffins, danish, croissants, and tea bread, and a bottle of Prosecco. Make Christmas breakfast planning easier for them with a baked goods selection that is almost as special as the morning itself.
*All Baked Items are Wrapped for Freshness
Buy Christmas Morning Breakfast Gift Basket
Christmas Gift Basket Deluxe – $114.99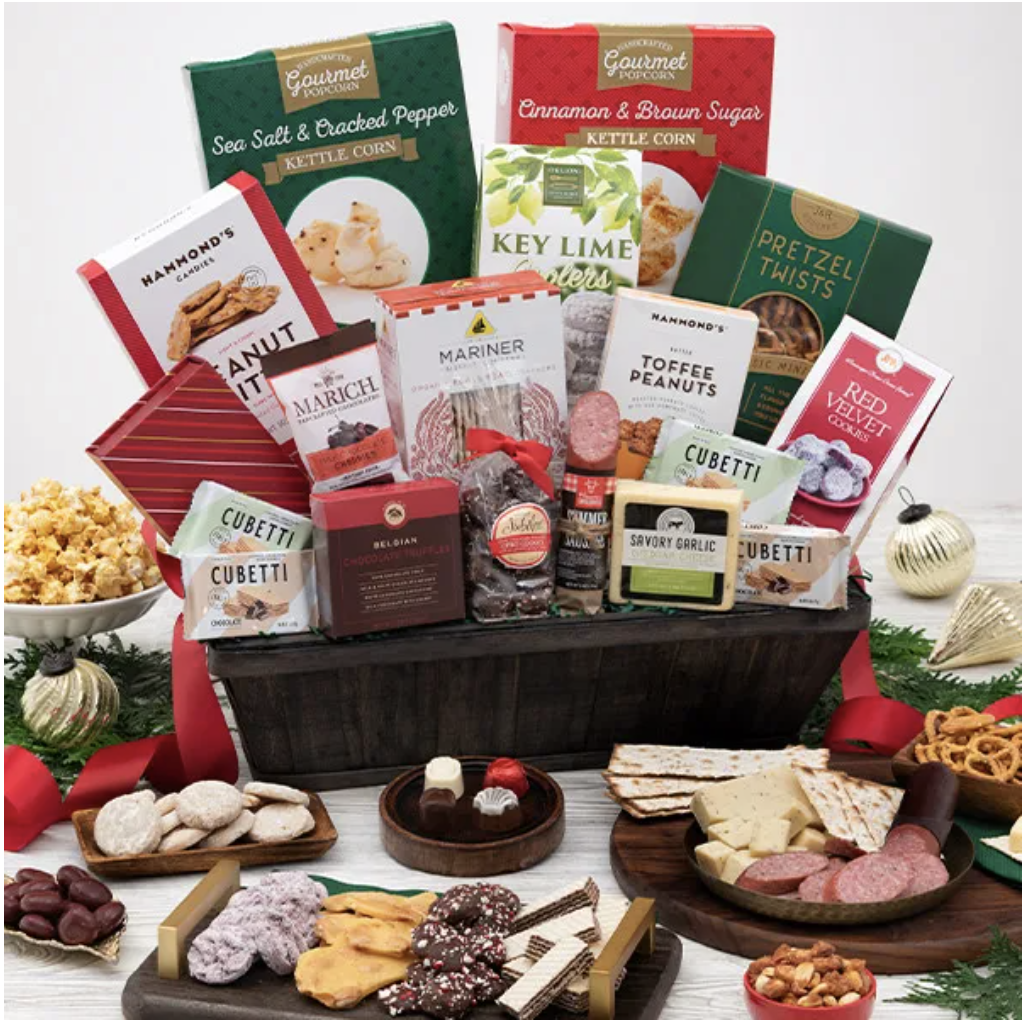 Spread holiday cheer with this deluxe Christmas Gift Basket! It boasts an unparalleled selection of delectable gourmet snacks, sweet treats, and tempting chocolates that are artfully displayed inside a beautiful chipwood basket. Complete with classic cookies, handcrafted popcorn, and delicious pretzel twists. This festive arrangement is the perfect way to make the holiday season bright.
Buy Christmas Gift Basket Deluxe
Over $150
Around The World Beer Bucket – $169.99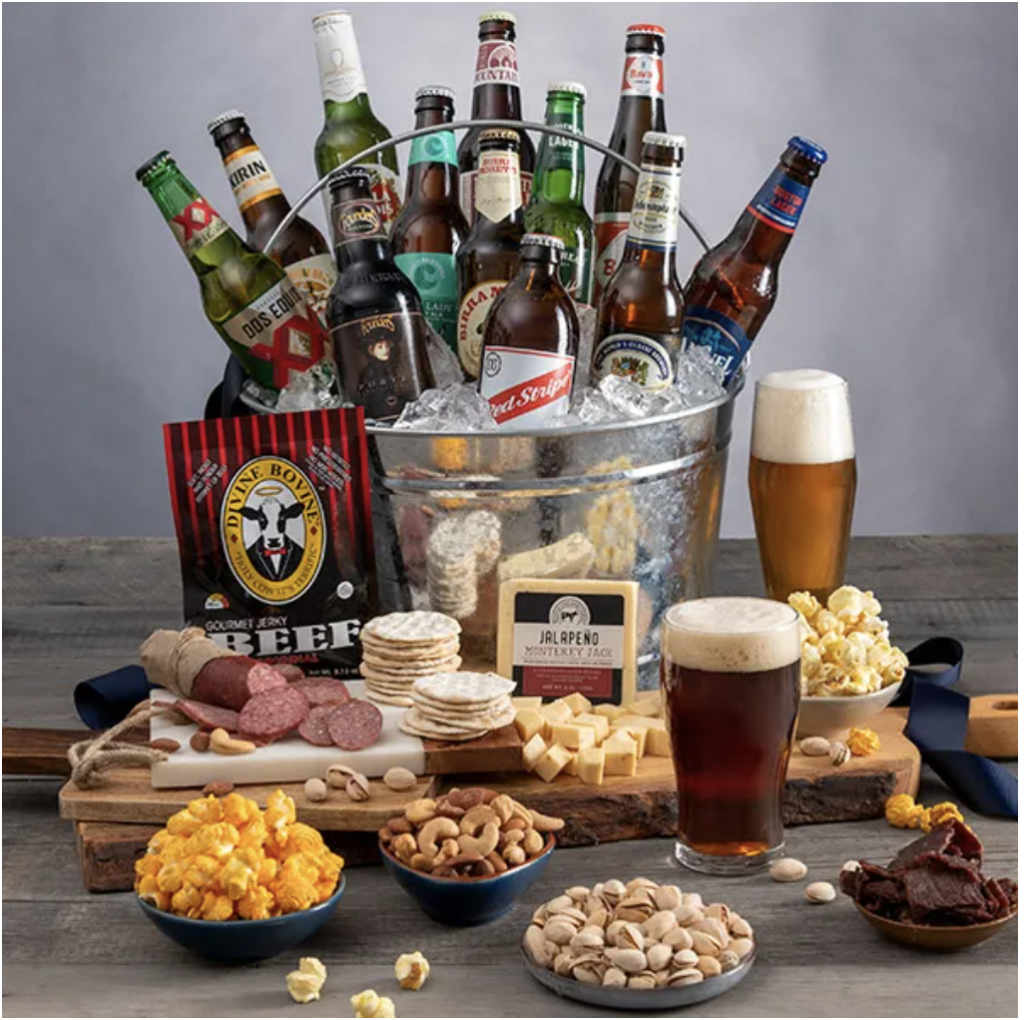 Great beers should know no borders. That's why Gourmet Gift Baskets sought out delicious brews from around the globe and united them in this Around The World Beer Bucket! Perfect for anyone who enjoys a cold one, we've brought together beers from many different countries and artfully arranged them inside of our galvanized steel bucket. And since nothing goes with a tasty brew like good snacks, we carefully chose some of our most beloved gourmet foods to include, handcrafted popcorn, tasty nuts, beef jerky, beef garlic sausage, and more, creating a special gift that's impossible to not enjoy!
*Beer glasses not included.
Buy Around The World Beer Bucket
Tell me everything!
What's your favorite last-minute gift to give? Merry Christmas and Happy Holidays!
*Disclosure: Thanks to Gourmet Gift Baskets for sponsoring this post. I only recommend products I use myself and all opinions expressed here are our own. This post may contain affiliate links that at no additional cost to you, I may earn a small commission. Thanks!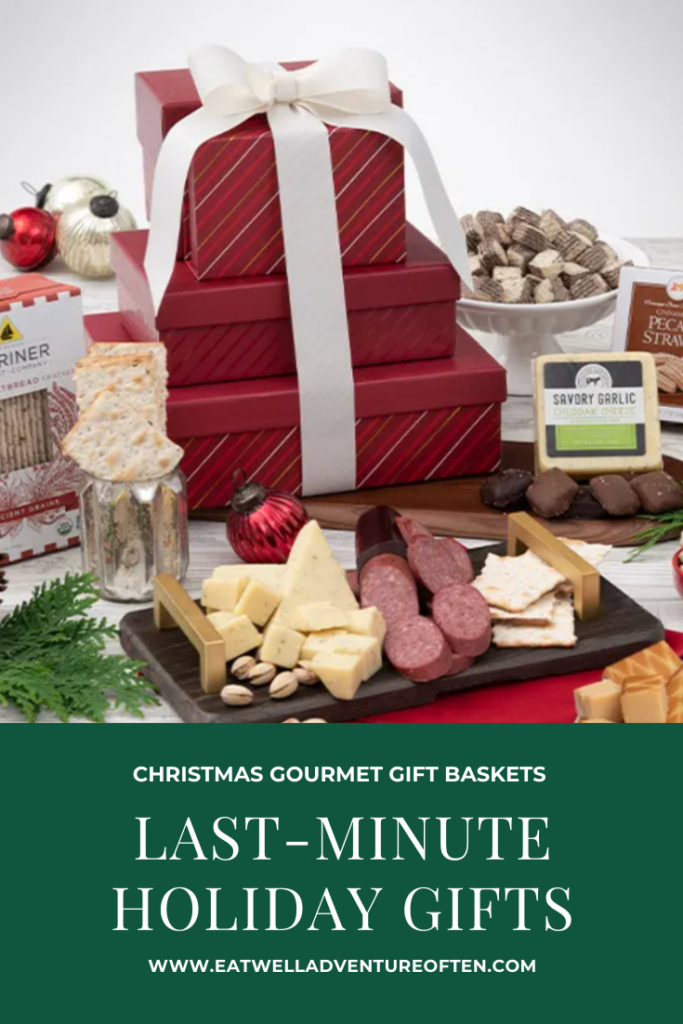 Buy last-minute holiday gifts on Amazon