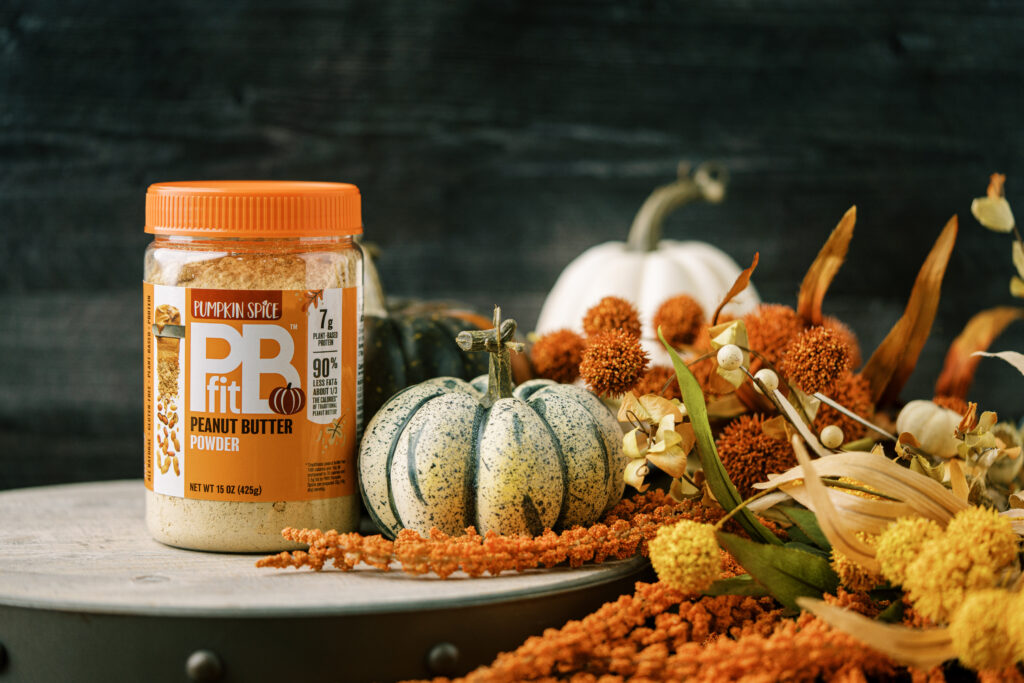 Nothing evokes the feeling of sweater weather and signals it's arrival quite like the taste of pumpkin, ginger, cinnamon, and cloves.
While it might still be hot where you are (like here in Texas), many are looking forward to the changing of the seasons and are ready to indulge in all things pumpkin spice.
So, to help you get your pumpkin spice fix, I've rounded up some tasty products and recipes. Check them out below!
How To Get Your Pumpkin Spice Fix
PBfit Pumpkin Spice
If you're not familiar, PBfit has 90% less fat and ⅓ of the calories of traditional peanut butter making it a healthy, powdered alternative. What's even better is that it is now available in a pumpkin spice flavor just in time for the fall season.
Mix it into baked goods like bread, pancakes, waffles, and cookies or blend it into breakfast smoothies and other drinks for a tasty, low-fat, protein boost during the day or after a workout.
PBfit Pumpkin Spice will only be available for a limited time, so make sure to snag some while you can!
Buy PBfit pumpkin spice on Amazon.
Pumpkin Spice Latte
There's nothing that says Fall quite like coffee and pumpkin spice. After all, wasn't it the latte that started the whole pumpkin spice obsession? But who wants to wait in line for a PSL when you could making one at home. The recipe below offers the same great PSL experience you're craving with a little added protein thanks to the PBfit.
Prep time 5 minutes
Cook time 5 minutes
Total 10 minutes
Makes 2 Drinks
Cal 199 | Fat 3 | Carb 39 | Fiber 4 | Protein 6
Ingredients:
Directions:
Add oat milk, pumpkin puree, PBfit, and agave syrup to a saucepan over medium heat. Heat until hot, but do not boil. Remove the saucepan from the heat and whisk in the vanilla, and the coffee.

Divide the mixture between two mugs. Top with your favorite non- dairy whipped cream and a sprinkle of cinnamon and PBfit pumpkin spice powder.
Cold Brew Smoothie
Looking for a cold brew option with a seasonal kick? Try this amazing cold brew concoction I came up with. It's become my go-to breakfast/lunch lately.
Here's the recipe:
Directions:
Put all ingredients in a blender, then blend and enjoy!
Maple Craft Foods Syrup
Maple syrup is another great way to welcome the fall season. This maple syrup from Maple Craft Foods is perfect as an organic sweetener in coffee or mixed drinks. You can also drizzle it over pancakes, waffles, yogurt, ice cream, and use it in baked goods like cookies, muffins, and pie.
Maple Craft syrup is made with pure Vermont Maple Syrup (Grade A, Dark) and organic pumpkin spice flavor.
Buy Pumpkin Spice Maple Craft Foods Syrup on Amazon.
Paleonola Granola
Boring, tasteless, unhealthy granola is out. Paleonola, grain-free pumpkin pie granola is in! Paleonola is a blend of nuts, unsweetened coconut, dry berries, and pumpkin spice. Did I mention that it's gluten, soy, and dairy-free? Pair it with one of the lattes above for a healthy autumnal breakfast!
Buy Paleonola pumpkin pie granola on Amazon.
Pumpkin Spice Caveman Coffee
This canned coffee drink is a true celebration of the Fall season! It combines cold brew with pumpkin spice (clove, cinnamon, pumpkin, vanilla)and MCT oil for a jolt of clean, delicious energy. Plus, it's:
sugar-free (thanks to Stevia)
low acid (since it's cold-brewed)
keto
paleo certified
dairy-free
whole 30 approved ingredients
This seasonal fave will only be available for a limited time, so don't procrastinate, caffeinate!
Buy pumpkin spice caveman coffee on Amazon.
Delysia Drinking Chocolate Pumpkin Spice
Delysia Pumpkin Spice drinking chocolate combines rich premium chocolate with fragrant spices such as nutmeg, cloves, and cinnamon to create a drinkable treat inspired by classic pumpkin pie. Like a crackling fireplace on a chilly autumn day, this aromatic drinking chocolate will warm your body and your heart throughout the fall and the winter season.
Buy Pumpkin Spice drinking chocolate on Delysica.com
Tell me everything!
What is your favorite way to celebrate pumpkin spice season?
*Disclosure: Thanks to Better Body Foods, Caveman Coffee, Paleonola Granola, and Maple Craft Foods for sponsoring this post. I only recommend products I use myself and all opinions expressed here are my own. This post may contain affiliate links that at no additional cost to you, I may earn a small commission. Thanks!