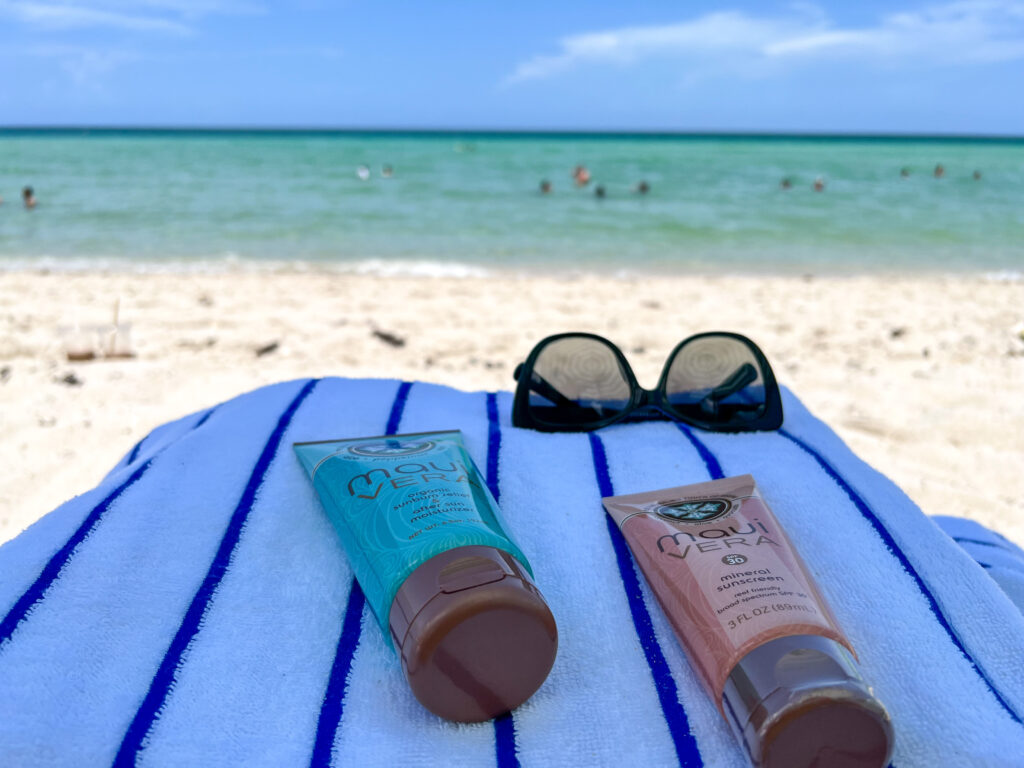 Whether Summer has arrived where you live and temperatures are heating up outside or you're like me and live in Florida where Summer is all-year-round, a good sunscreen is essential to protect yourself from the sun's harsh UVA and UVB rays.
However, a lot of sunscreens contain toxic chemicals that are harmful to you and the planet so I put together this sunscreen guide to help you find the perfect mineral-based and reef-safe sunscreen to help you stay protected from the sun throughout lake, beach, and boating season and beyond.
Natural sunscreens that will protect you all Summer long!
Maui Vera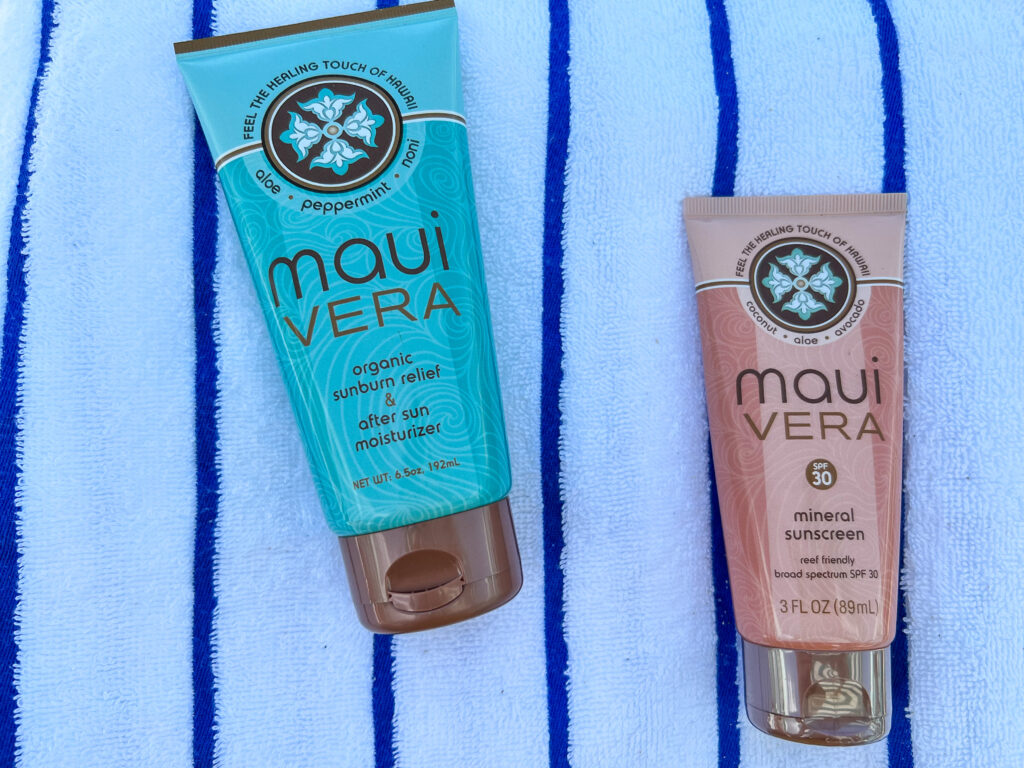 You don't have to live in Hawaii to feel its healing touch thanks to newcomer Maui Vera. I tried this spa-quality, natural skincare a few weekends ago while having a beach & spa day at the Carillion Wellness Resort via Resort Pass. The verdict? Add this sunscreen to your new favorites asap!
It's made with spa-quality ingredients such as:
organic avocado oil which contains vitamin E and protects against free radicals.
organic coconut which is hydrating and healing.
organic aloe which is high in minerals, amino acids, and B vitamins.
Plus, Maui Vera sunscreen is:
made with non-toxic minerals like zinc oxide.
reef-safe formula free of environmentally destructive Oxybenzone and Octinoxate.
formulated without parabens and synthetic fragrances.
And don't forget their incredible after-sun moisturizer made with cooling peppermint and soothing aloe and noni for relief from sunburn and exposure.
Stream2Sea Reef Safe Mineral Sunscreen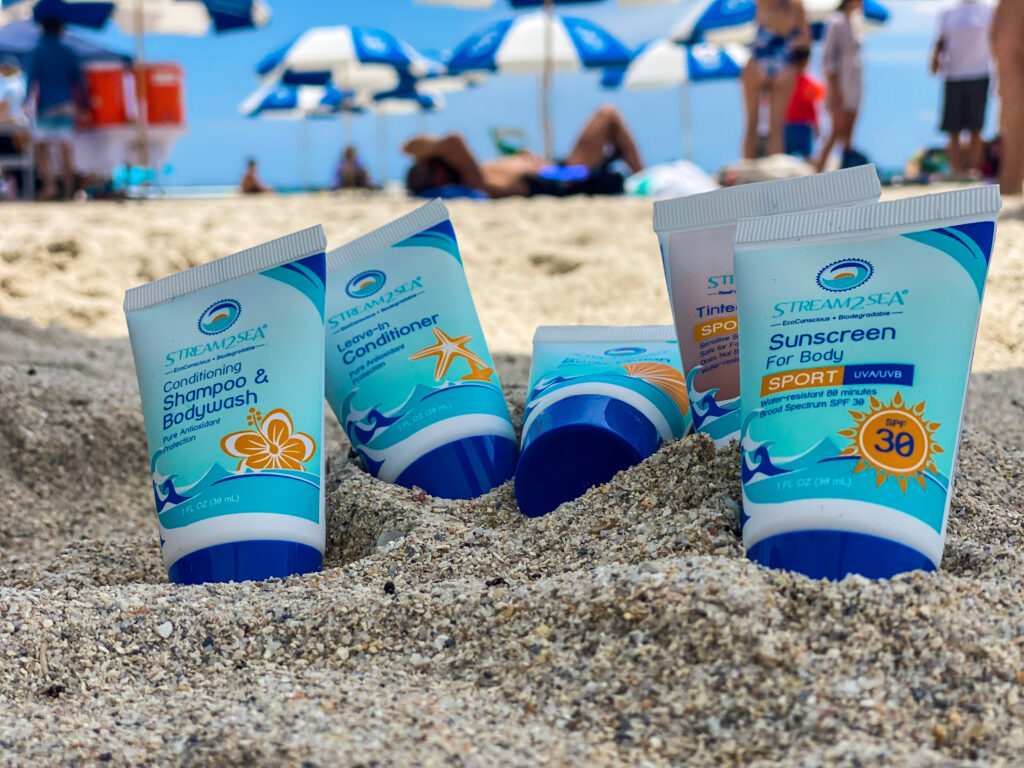 I've been a huge fan of this local Florida company for a few years now! That's because Stream2Sea is not only safe for me and the environment, but it works wonderfully! It glides onto the skin and absorbs easily, comes in convenient mini-size tubes that are perfect for traveling, and it contains protective antioxidants like green tea, tulsi, and olive leaf.
I also love the fact that the CEO of Stream2Sea is a Florida-native, diver and chemist. Plus, Stream2Sea uses eco-friendly packaging made from sugar resin or recycled milk jugs. Yep! When it comes to sunscreen, it doesn't get any better than this brand.
Buy Stream2Sea on their website. Use code SAMANTHASAENZ to get 10% off your order.
Pacifica Sheer Mineral & Marine Extract Sunscreen
Pacifica Beauty makes some of the best clean, vegan, skincare products and their sunscreen is a prime example.
I love this spray mineral sunscreen because it's convenient and contains vitamin C and marine plant extracts to help protect, nourish and hydrate your skin. Plus, its water-resistant, mineral formula is perfect for long days in the hot sun.
Buy Pacifica sunscreen on Amazon.
Tell me everything!
What's your favorite natural, reef-safe mineral sunscreen brand?
*Disclosure: Thanks to Maui Vera for sponsoring this post. I only recommend products I use myself and all opinions expressed here are our own. This post may contain affiliate links that at no additional cost to you, I may earn a small commission. Thanks!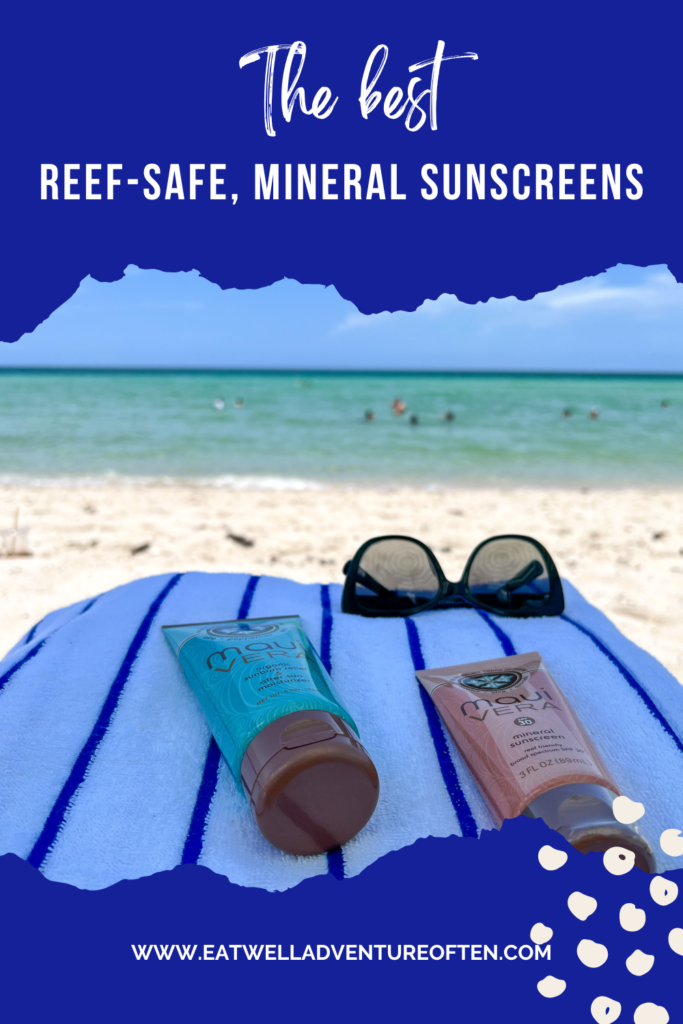 Shop more mineral and reef-safe sunscreens on Amazon.