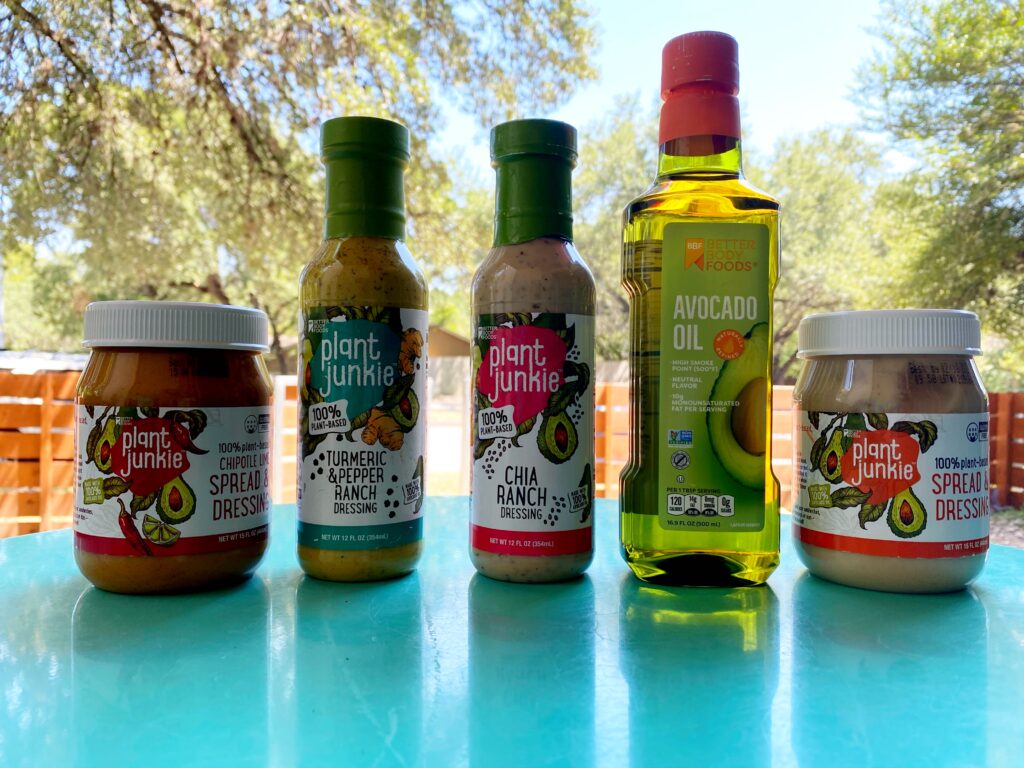 Adding healthy flavor to your salads and sandwiches just got easier! Meet Plant Junkie, the newest line of plant-based condiments (dressings & spreads) that are 100% plant-based, vegan-friendly, and delicious.

The entire Plant Junkie line is also dairy, egg, soy, nut, and gluten-free, making it the go-to option for those with food allergies or anyone wanting to eat a plant-based diet.

So go on and pour Plant Junkie on your salads or try one of the spreads below in a wrap or sandwich. Check out my favorite three below!
Plant Junkie Plant-Based Dressings
Turmeric & Black Pepper Ranch Dressing
I couldn't believe this dressing is plant-based as it tastes exactly like regular ranch dressing but with a nice little kick thanks to anti-inflammatory turmeric. It would be fantastic in a salad or grain bowl. I used it to make the Mediterranean-inspired bowl below.

Buy it on Amazon.
Easy Mediterranean Bowl with Plant Junkie Turmeric & Black Pepper Ranch Dressing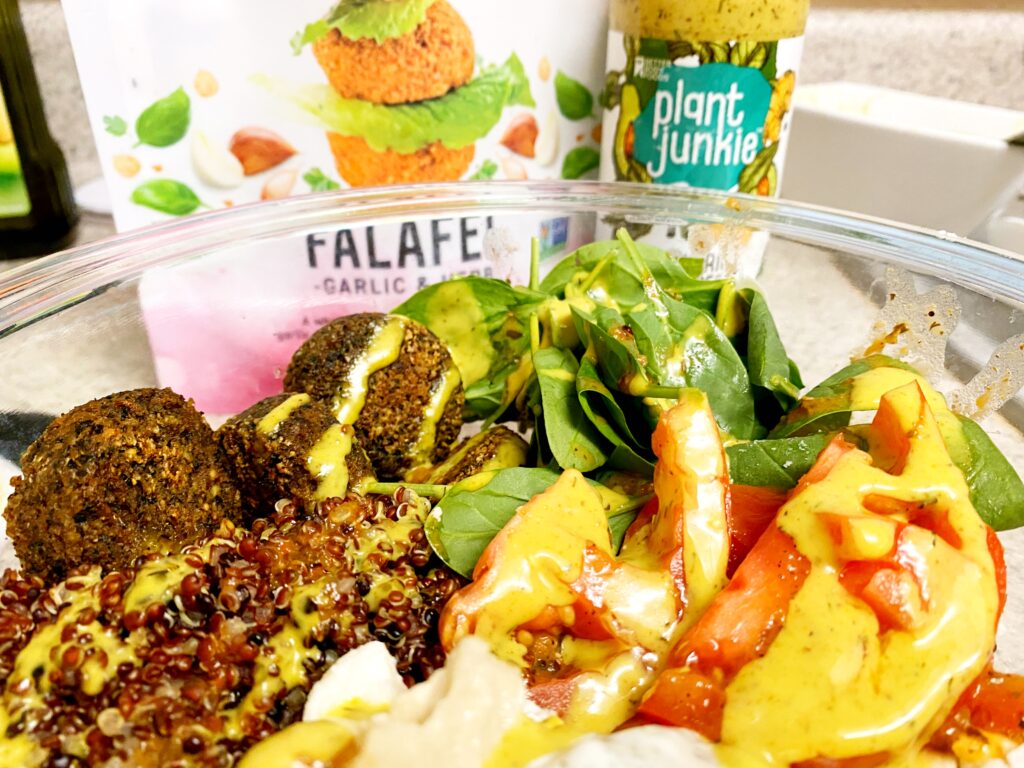 I love bowls! They're easy to make and healthy. Plus, they are packed full of flavor and protein—perfect for a hot summer day. I decided to make a Mediterranean inspired bowl with the turmeric ranch and some ingredients I had in my fridge and freezer.

Here's the recipe:
1 cup dry Quinoa. I used a tri-color blend like this one from Better Body Foods, but any quinoa or grain like rice or farro would work well.
Afia falafel. You could also use Tofu or another protein of your choice.
Spinach or leafy green of your choice.
Feta cheese
Hummus
Dill dip or Tzatziki
Build your own bowl by portioning the amount of the ingredients you want and then drizzle it with the Turmeric & Black Pepper Ranch dressing and enjoy!
Plant Junkie Chia Ranch Dressing
Classic ranch just got a health upgrade in the form of this chia infused dressing. Use it as you would regular ranch dressing, you won't be disappointed.
Buy it on Amazon.
Other plant-based dressing flavors:
While I haven't tried the flavors below, I am optimistic that they are probably as delicious as the ones I have tried.
Plant Junkie Plant-Based Spreads
Chipotle Lime Spread & Dressing
Made from avocado oil and other plant-based ingredients, this spread is an excellent vegan alternative to classic egg-based mayonnaise and sandwich spreads. My latest obsession has been to dip plantain chips in it as a snack!
Buy it on Amazon.
Other Plant Junkie spread & dressing flavors:
Tell me everything!
Have you every tried Plant Junkie or other plant-based dressings & spreads?
*Disclosure: Thanks to Better Body Foods for sponsoring this post. I only recommend products I use myself and all opinions expressed here are my own. This post may contain affiliate links that at no additional cost to you, I may earn a small commission. Thanks!