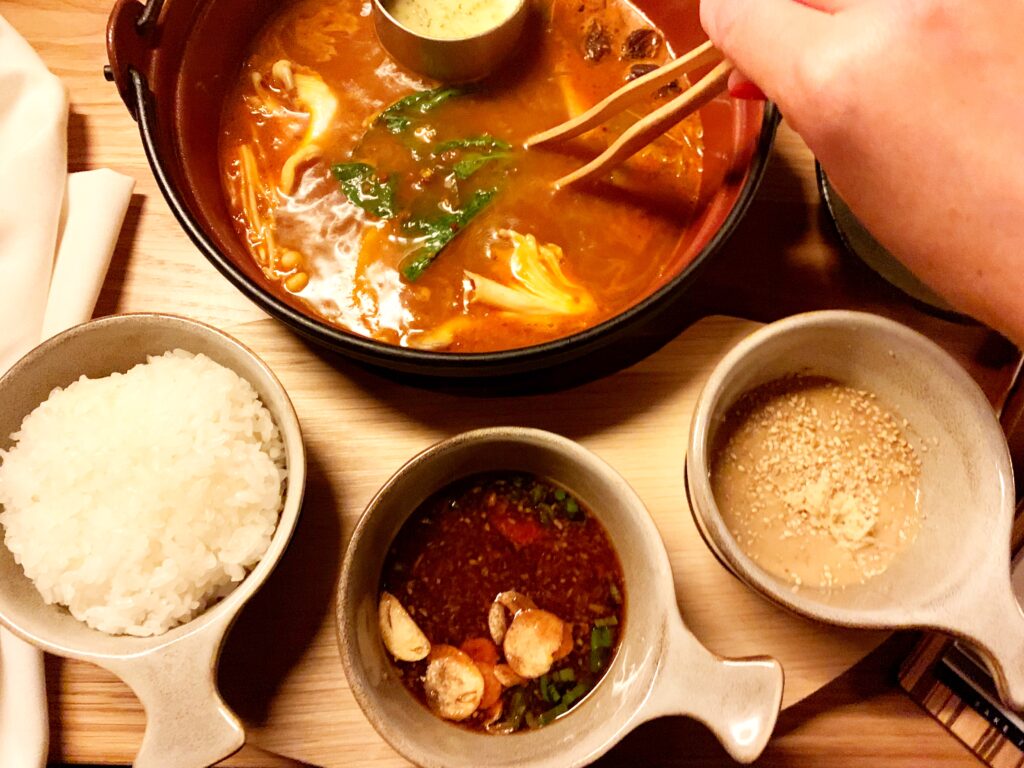 "What was the best thing you ate in Austin in 2019?" That's the question I recently asked 16 Food Bloggers. Many of the foodies that I asked try multiple places each week, and as I expected, it was hard for them to narrow it down to just one restaurant, let alone pick one dish. However, after they had some time to contemplate my question, I was finally able to get an answer from the majority. A few Austin foodies still couldn't resist giving me multiple places, and others even gave their picks for the best drinks in town. Check out their answers below!
Best Restaurants in Austin
Amanda of @exploringamanda on Veracruz, Chi'lantro, and Amy's Ice Cream.
This would be my perfect food day (and the below is also the best things I ate this past year): Migas from Veracruz All Natural for breakfast, Kimchi fries from Chi'lantro, then Amy's Ice Creams Mexican Vanilla (duh).
Amy of @sushigirl_atx on DipDipDip Tatsu-ya
DipDipDip Tatsu-ya omakase experience is easily my most memorable dining experience of 2019. The Wagyu dipped in Truffle Sukiyaki is pure bliss!
Ashleigh and Adam of @mcclurepartyoftwo on Foreign & Domestic
When we go out to eat, we are looking for inspiration to take home or to be mind blown by something irreplicable. Foreign & Domestic has checked both of those boxes for us! If you are looking for a can't miss dish in Austin, their foie gras mousse served with cherry jam and garnished with peanut glass, is it. It's the perfect end to any meal and it's reminiscent of PB&J, but taken up a notch, or ten. This dessert epitomizes everything this restaurant is; thoughtful, delicious, and unique, just a few reasons this is our go-to favorite spot.
Hands down my favorite food in Austin of 2019 is Malibu Poke'. The quality of the ingredients and the cleanliness in the restaurant is like no other. I could eat there every single day and never get bored!
Brittany Ballard of @Saphmira on DipDipDip
My favorite restaurant this year was DipDipDip Tatsu-ya. They offer a ton of options for your meal with delicious flavor combinations. The truffle sukiyaki is basically magic and I wish I had jars of it at home.
Camellia Falcon of @dear_auntiecam on Buenos Aires Cafe East
The best meal I ever ate was Pumpkin Gnocci from Buenos Aires Cafe East. I fell upon it when I agreed to get a vegetarian portion with a friend. That magical plate was a reward for my kindness. It was the perfect little pocket of pumpkin enveloped in a just-right fold of dough. I ordered a second order. It was necessary. I have never found it again, it was a gift from the heavens only meant to be found on this earth once.
Candace of @partiesbyperez on Plaza Colombian Coffee
A latte with Arequipe and the steak empanada duo is my pick. Plaza Colombian gets me every time with the trio for a dollar more!! The coffee is smooth, sweet, and made with some much love. The male barista there is FABULOUS and is always in such a great mood. And the sauce they pair with the empanadas… good Lord! I honestly hate sharing their goodness because I want it all to myself.
Case Erickson of @caseerickson on Teal House Bakery
"If you're looking for an orgasmic, eyes-roll-in-the-back-of-your-head experience, welcome home. The cinnamon rolls at Teal House Bakery are a *must consume* for anyone with a sweet spot for breakfast goodies, and a *must try* for any serious foodie. Once you have them, Cinnabon will never again suffice. At 9 votes separating them from the $10,000 first-place winner of Trucklandia, Teal House did not, and does NOT disappoint!
Erin Stratton of @sewstratton on Spread and Co.
The best place to eat this year was Spread and Co. The presentation and flavors were heavenly! Everything was so fresh.
Can it be the best drink?? Because, the best thing I drank was the Barrel-Aged Old Fashioned from Dumont's Down Low. It's only $7 at happy hour and it's the best old fashioned I've had in Austin.
Definitely the pork shank from Lin Asian Bar. It melts in your mouth, is packed with flavor, is HUGE, and it comes with cute little porcupine buns.
The first time I had the churro waffles from The Funkadelic, was during a staycation and I literally put my fork down after the first bite and said, "WOW." One of the chefs chuckled. They pair it with syrup and a horchata whipped cream and it's just the most delightful.
Lee of @coffee_cheers on Casino El Camino & Coffee Bar Europe
For food, the best burger I had in ATX was at Casino El Camino; Juicy delicious burger, dive-bar vibes and chase it down with a Miller High Life.
Top drink… I enjoyed the Turkish coffee at Coffee Bar Europe. Small shop, but had all the things I needed.
Mariel of @aaah_mariel_and_max Gourdough's Public House and Interno
My mouth waters as I write this. These are my most drool-worthy, eyes pop out kinda yums in Austin. Intero (you can't go wrong with anything from this quiet and classy spot). For dessert, Gourdough's Public House thoroughbred & Henbit cookies never disappoint!
Nicole of @loveofallthethings on Soto, It's Italian Cucina, and DipDipDip Tatsu-ya
I only get to pick one??!! I have a top 3: Soto, omakase, It's Italian Cucina, Oso Buco, and all their housemade pasta, and DipDipDip Tatsu-ya, Tatsu-ya omakase.
I love the pasta from Patrizi's because it's so fresh and reminds me of my trip to Italy.
The fourth vote for DipDipDip-Tatsuya! At first, I was overwhelmed with all the rules and menu choices but my feelings quickly turned into a sensory experience to remember. DipDipDip has a plethora of vegetarian options (which is important to me); fresh vegetables, every mushroom you could imagine. Plus, steamed buns, and the sauces, OH the sauces! I dipped and dunked and dipped some more until I was so full I had to nearly be carried out to my car. The restaurant itself is small, with cozy vibes and impeccable service. This is definitely a place you only go with someone you love. At least moderately adore.
Tell Me Everything
What picks above do you agree with? And what would you add?